Alec Stewart column: West Indies may struggle at Trent Bridge

By Alec Stewart
Former England captain and BBC Radio 5 live summariser
Last updated on .From the section Cricket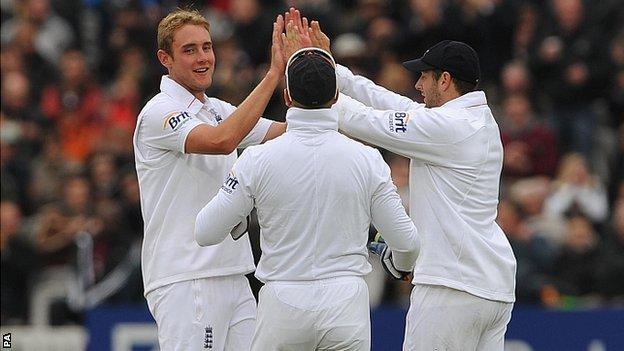 England made a good start to their international summer with a pretty convincing win over West Indies at Lord's, but there were a couple of hiccups along the way that they will want to rectify, starting at Trent Bridge on Friday.
In the first innings, they had an opportunity to bat West Indies out of the game by posting a score in excess of 450. However, they failed to fully build on the platform laid down by Andrew Strauss's fine century and if West Indies had batted in their first innings anything like they did in their second, the game could have been even closer than it was.
You can forgive both teams a little ring-rustiness with the bat, given the amount of rain we have had in the early part of the season, but too many players on both sides got starts and then failed to turn them into the big scores that really influence Test matches.
Having said that, I expect England to be stronger at Trent Bridge, where they have won their last three Test matches - against India, Pakistan and New Zealand - by massive margins.
The West Indies will find the going in Nottingham even tougher than they did at Lord's because the ground is renowned as a swing bowler's paradise and in James Anderson, Stuart Broad and Tim Bresnan, England have three of the best in the business.
Since the new Radcliffe Road Stand went up, it seems to swing more than it ever did and the lush outfield at the ground means the ball stays in a better condition to swing for longer.
The Windies attack has plenty of pace but you wouldn't call them big swing bowlers, so conditions are likely to favour England heavily.
The key to the match could be how the inexperienced West Indies batsmen handle the moving ball.
We saw glimpses that both Adrian Barath and Darren Bravo are talented cricketers, and if they can learn from their Lord's examination it will stand them in good stead for the rest of their careers.
Shivnarine Chanderpaul showed the rest of his team that if you occupy the crease and put a high price on your wicket it is possible to score big runs, and I thought Marlon Samuels supported him well in the second innings. They will need a few more to follow their lead if they are to get back into the series.
England have announced the same squad for Trent Bridge and I don't expect a change to the final XI either.
Bresnan may only have taken one wicket in the match but he bowled well enough and, with his ability to swing the ball, will have a big part to play in Nottingham. He has also now played 12 Test matches and won them all so I wouldn't even contemplate leaving the lucky mascot out.
The Windies, on the other hand, have plenty of selection issues to consider. Ravi Rampaul should have recovered from his injury setback and is likely to replace Shannon Gabriel, who is flying home with a back injury after an impressive debut at Lord's, while the off-spinner Shane Shillingford would provide variety.
The age-old issue of getting the right balance is the biggest problem any team faces when they don't possess a genuine all-rounder. I expect them to stick with four frontline bowlers. The question is, which four?
With Chris Gayle's Indian Premier League commitments now over, it will be interesting to see whether the selectors rush him straight into the team. He has had well-documented issues with West Indies cricket but has now resolved his differences and is available.
Another player currently out of favour, and plying his trade with Leicestershire, is Ramnaresh Sarwan and after his excellent interview on Test Match Special it was obvious he still has a real desire to represent the Caribbean.
On talent alone they would both strengthen the side but the West Indies Cricket Board has some big decisions to make.
England's biggest dilemma is probably finding a way to dismiss the brilliant Chanderpaul and they will be studying plenty of footage of him between now and Friday.
He has a very open, unorthodox stance, which has served him well over the years, but I still believe the best bet is to bowl full and straight at him. He is a prime candidate for leg-before as he hangs back and plays from the crease line.
It does mean potentially giving away a few runs through mid-wicket or square leg but as he batted for more than 10 hours at Lord's for just once out, I would suggest it's worth a go.
England need to come up with strategies for Chanderpaul and if Plan A doesn't work, try Plan B. If they end up at Plan Z, that's the time to panic!