Northants buy freehold of Wantage Road ground
Last updated on .From the section Cricket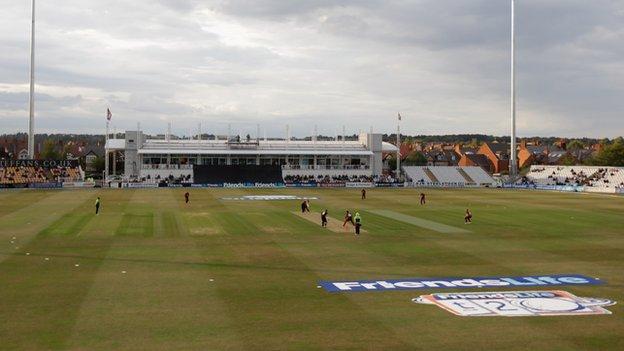 Northants have bought the freehold of their long-time home ground at Wantage Road in Northampton.
Officials have been negotiating for the last five years with the Cockerill Masonic Trustees, who have leased the ground to the club since the 1920s.
The purchase was made possible by a legacy from former Northants chairman and president Lynn Wilson.
"We're very happy we've been able to achieve this," said current chairman Martin Lawrence.
"Although the Cockerill Trustees had allowed us to occupy the County Ground on a long leasehold basis, there's nothing better than securing the ownership of the site ourselves.
"It will help to sustain the long-term financial security of the club and will enable us to develop the ground to the highest standards possible," he added.
Northants first played at Wantage Road in 1886, nearly two decades before being admitted to the County Championship, and will play their 1,000th first-class match at the ground later this season.
"This purchase gives the club a good opportunity to continue developing the County Ground," said chief executive David Smith.
"And improvements like the new outdoor nets facility will enhance our reputation within the game."