James Harris targets Glamorgan return against Leicestershire
Last updated on .From the section Cricket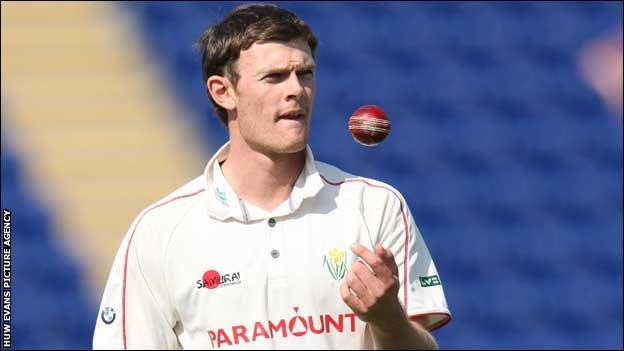 Seamer James Harris hopes to return to Glamorgan first-team action in their County Championship clash against Leicestershire next week.
Harris, 22, missed the England Lions' winter tour after a double hernia operation in February, having suffered the injury in September 2011.
But he returned in Glamorgan's second XI game against Gloucestershire in Bristol on Wednesday.
Afterwards Harris said: "I feel very good. It's been a long time coming."
Glamorgan face Hampshire in the Championship starting on Wednesday having omitted Simon Jones from their bowling attack.
Harris hopes his groin holds up to the demands of the second-string clash with Gloucestershire ahead of the game against Leicestershire that begins on Tuesday, 29 May.
"That's [Leicestershire] what I've got my eye on. Nothing's been set in stone yet.
"But obviously it depends on how my body sort of holds up through this week.
"It may be a week early, but hopefully I can get back in time."
Harris admitted he was wary going into his first spell on Tuesday, but he was happy to return after missing out on the Lions tour to Sri Lanka in February.
"I've bowled into nets and stuff like that, but nothing's the same as bowling in the middle," he said.
"So the main thing is it's feeling good.
"There always were nagging doubts in my mind when I ran in to bowl for the first time.
"Missing the Lions tour was a bit of a nightmare, to be honest. It's something that came about last September.
"We didn't think it was much at the time.
"We thought we'd get through it with some rehab and stuff - didn't work out as planned, forced to miss the Lions tour and go under the knife, which wasn't ideal.
"But if you look back in the next, hopefully, 10 years, this will be a break that I probably needed.
"My body was telling me it was quite tired and hopefully it will turn out to be a positive thing."
He says the last three or four years have been tough for him but especially the last 18 months.
"I played a season, trained all winter, went on the Lions tour, came back mid-March [2011] and started the season 10 days after that and played almost all the way through," he recalled.
"If you look back now something was always going to snap at that point."