Stuart Broad rates Steven Finn as one of world's best bowlers
Last updated on .From the section Cricket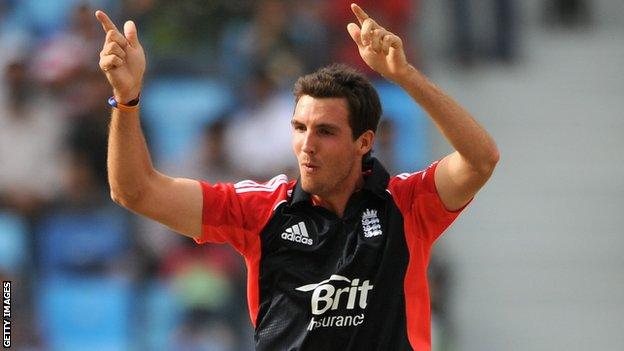 Steven Finn is good enough to "get in most teams in the world" according to his England team-mate Stuart Broad.
Fast bowler Finn is being kept out of the Test side by a pace attack of Broad, James Anderson and Tim Bresnan.
The 23-year-old took 50 wickets in his first 12 international appearances and has impressed his fellow fast bowler.
"He's got an amazing career ahead of him, we're just very fortunate we have got three bowlers in the top five in the world at the moment," said Broad.
"I think he would be in most international teams in the world.
"He seams the ball on flat wickets which is always dangerous with his speed and he is a natural wicket taker.
"He's come into the one-day side and done particularly well with that new ball and he's raring to go and he just needs to keep taking wickets. Opportunities always arise in the quick bowling stakes because it's quite tough on the body and people need rests and get injured."
Broad took 11 wickets in the first Test victory over West Indies, while Anderson and Swann both took three as England earned a 1-0 series lead going into the second match at Trent Bridge on Friday.
"The great thing about this bowling unit is that it's all about getting off the field and getting 20 wickets," said Broad. "So no-one really minds who gets them, it's just about getting them and you can only do that with partnerships.
"I think we have bowled in partnerships fantastically in the past two years really. If you build pressure from both ends then the opposition will have to crack at some stage and that's our philosophy."
Trent Bridge will offer a different type of challenge for the England front line thanks to its faster wicket and outfield.
"It does swing and if we have weather like this, a beautifully sunny day, then it might swing a little less," added Broad.
"It will be very good for batting but the good thing about Trent Bridge I have always found is that it's an exciting cricket wicket."