Jonathan Agnew column: England let West Indies off the hook

By Jonathan Agnew
BBC cricket correspondent
Last updated on .From the section Cricket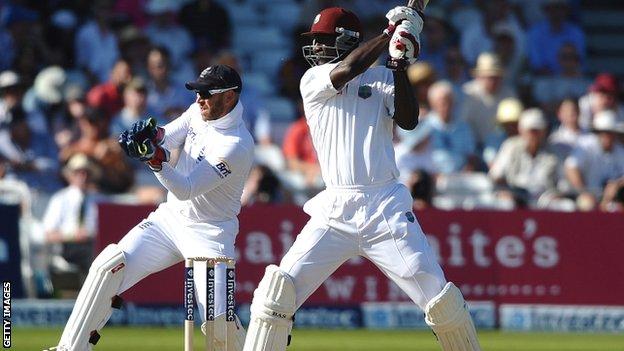 Caribbean cricket supporters and all of us who want to see West Indian cricket flourish will be delighted that Darren Sammy has got his highest Test score.
It will do his credibility good as captain and his confidence good too.
He's been subjected to a certain amount of questioning about whether he is the right man to lead the team but he has shown strong character and he and coach Ottis Gibson have taken some difficult decisions with senior players, and have decided to look to the future.
Sammy has shown he has got something and I hope a lot of the negative stuff will start turning to some credit for him.
This is a big innings for him, he's still got to carry on from 88 not out of course, but his team would have been in a perilous position had it not been for the resistance he and Marlon Samuels showed in their unbroken partnership of 168.
Sir Viv Richards was asked to give the West Indies team a gee-up and he had his five-minute rallying cry before the start of play.
It wasn't that the Windies played like Sir Viv, more that they fought hard and from being rather quiet after their poor start, the great man was delighted by that partnership.
The first 30 or so runs that Samuels scored were pretty ugly but he knuckled down and showed great discipline and that's what the situation demanded.
That is what you have to do in unfamiliar conditions, whether it is England in the sub-continent or West Indian players on seaming pitches here, you've got to battle it out.
Now they have settled on this team they have to show faith but the young players at the top of the order have to learn from the experience and they were disappointing again with some poor footwork.
Yet in the final session it was rather different. Tim Bresnan struggled a bit, and I'm a little surprised he is playing to be perfectly honest, although England are always determined not to change a winning side.
England fell into the easy trap of thinking the innings was essentially over, they were great early on but overall were not at their best.
They went at nearly five an over which is very unlike them and they weren't as disciplined as we are used to seeing them, with a couple of hard chances going through the slips.
They were heated, well James Anderson is always heated, but big partnerships are frustrating and they didn't bowl well in the latter stages.
Looking ahead to day two there are two scenarios, the West Indies could go on to 400, but that still seems quite a way off because although these two are set they will have to start again.
Alternatively they could be skittled out for 330-340 because there is not much batting to come.
Either way England will look back on 136-6 and be disappointed the tourists have got as far as they have.