Jonathan Agnew column: Strauss goes from strength to strength

By Jonathan Agnew
BBC cricket correspondent
Last updated on .From the section Cricket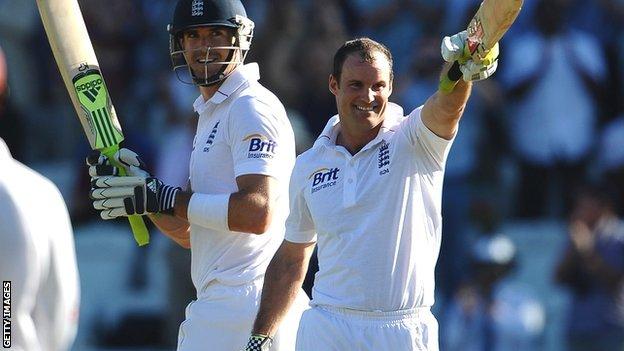 What a difference a week can make.
Before the start of the first Test at Lord's, all the talk around Andrew Strauss was of whether his run of bad form had become a permanent affliction, and how long he could justify his place at the top of the England batting order.
Not any more. His 102 not out here at Trent Bridge, allied to his 122 last week, means all that pressure has now been lifted from his broad shoulders.
No longer will he go into the South Africa series later this summer with muttering in the corridors and endless whispers from the close fielders. He is now the in-form skipper, a danger for the opposition, a talking point no more.
He is not actually doing anything different to when he was struggling with that trot of bad scores. There have been no technical changes.
On Saturday, as England reached 259-2 in response to West Indies' 370, Strauss still played a number of shots early on that could have got him out. All that has happened is that fortune is now working for him rather than against him.
That might sound harsh. He has played well. Particularly in the session after tea he batted with fluency and was fully deserving of his 21st Test century.
Equally he will reflect on those loose shots and know that he will have to tighten up a little, particularly against the more searching examination that Dale Steyn, Morne Morkel and Vernon Philander will offer later in the summer.
I think he enjoyed batting with Kevin Pietersen today. In this sort of mood KP is always doing something, whether it was unveiling his own version of the Dilscoop or coming down the wicket to hit Shane Shillingford for six straight after tea.
Of course, he loves the attention that these shots bring. He is a natural showman, and that is why he will always divide opinion.
His fine for that Tweet about Sky commentator Nick Knight is a great example: 50% of people thought it was absurd; 50% thought it was an illustration of his arrogance.
Pietersen is not only unlike any other England player in the current team. He is unlike any other player I have ever seen.
That trademark clip through midwicket with the bottom hand - the only other man I have seen who could do that was Viv Richards, but even then it was a different kind of shot.
Viv would only do it to a full ball. Pietersen manages to get the ball away even when it is short, shovelling it away almost like a tennis shot.
It presents pace bowlers with real problems. Bowl a fraction too straight and he will crash you away. Bowl too far the other way, outside off, and he will flay you through cover or point.
The only place to bowl to him is an inch outside off, and then to hope that he will plant that front pad and play around it, bringing into play the lbw or clean-bowled.
The West Indian attack had enough problems as it was.
It was good thinking by the England pair to target off-spinner Shane Shillingford, because they knew his captain Darren Sammy needed him to tie up an end.
Hit him out of the attack and Sammy suddenly had huge problems, magnified by the no-ball issues that his spearhead Kemar Roach was enduring.
I do not think I have ever seen the same batsman being reprieved twice by no-balls from the same bowler, as Alastair Cook was.
It is nightmarish for Roach. He is a young, talented bowler, but once the no-balls start coming your rhythm and confidence just fall away.
Batsmen can never understand how a bowler can no-ball. Your run-up is something you do hundreds of times a day, week after week.
The usual comment is the obvious one: why not move your marker back half a foot to give yourself that extra leeway?
Counter-intuitively, that is actually the worst thing you can do. You will lose even more of that instinctive rhythm, that subconscious feel.
The best solution is to do the opposite. Richard Hadlee took me aside when I was a young bowler and explained all: move the start of your run-up forward a foot instead.
It sounds strange. But that way you shorten your stride, you relax into your approach, and everything else follows from there.
No-balls will nag and nag at you. Sammy needs Roach to silence his for the West Indies to get back into a match that is in danger of running away from them.