England v West Indies: Andrew Strauss targets innings victory
Last updated on .From the section Cricket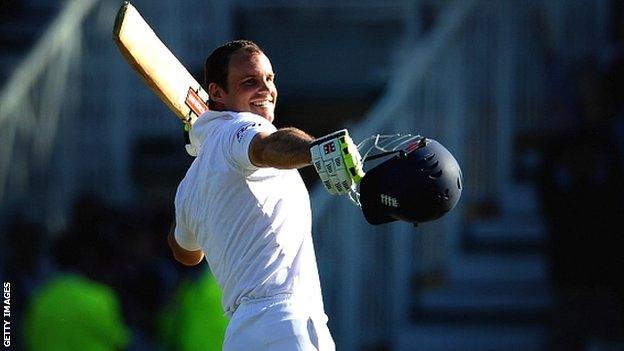 Captain Andrew Strauss targeted an innings win after helping England into a strong position in the second Test against West Indies.
"We're in a good position," Strauss told BBC Sport. "We're still 100-odd behind so we need to work hard.
"This wicket tends to get a bit up and down towards the back end so we need to bat long and maybe bat once."
Strauss ended a run of 18 months without a century at Lord's as England won the first Test of the three-match series by five wickets.
"I've long since given up trying to work out this game," he added. "Sometimes it makes life very difficult and sometimes it feels easy.
"(Today) was one of the more enjoyable ones. I wasn't fighting against myself, it was a nice placid wicket and it was fantastic to keep going after that century at Lord's.
"Once you're in there's no reason why you shouldn't score reasonably freely but it's more about getting over the new ball and getting the first 20 or 30 runs."
The captain how has 21 Tests centuries, moving ahead of Graham Gooch, Ken Barrington and Kevin Pietersen and within one of the record jointly held by Wally Hammond, Colin Cowdrey and Geoffrey Boycott.
Strauss said: "I kind of knew. It was nice to ease one ahead of Graham Gooch - I think that was nice for the lads - but there are a couple of people breathing down my neck who I sure will pass whatever tally I get."
The 35-year-old left-hander has never scored more than six runs the morning after reaching three figures, and added: "My conversion rate the next day has not been a strong point for me so I'm going to have to think of a different tactic to employ, but I'm sure I'll have a glass of something tonight."