Jonathan Agnew column: Tim Bresnan deserves our respect

By Jonathan Agnew
BBC cricket correspondent
Last updated on .From the section Cricket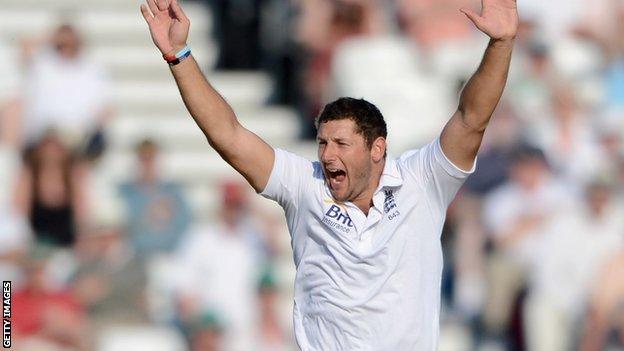 On a day that began with a bang, fell asleep in the middle and woke up dramatically at the death, Tim Bresnan once again proved that what he lacks in glamour he makes up for with old-fashioned Test class.
He deserves our praise and respect. Some felt he was fortunate to get the nod over Steven Finn for this second Test after a performance in the first that was less than auspicious.
If you were picking an England attack purely on balance, you would probably go for Finn. As a strike bowler with pace and bounce, he offers something genuinely different to the new-ball pairing of James Anderson and Stuart Broad.
Bresnan has usually been seen as the dependable workhorse who allows those two to flourish, sealing off one end to create pressure, doing the hard work with the old ball, running into the wind and doing the shifts his more feted team-mates are spared.
He can still do all of that. But his dismissals of Darren Bravo, Denesh Ramdin and Kirk Edwards - all three lbw - showed that he can now do much, much more.
He has always possessed a decent bouncer. What he has now is the ability to swing the ball both ways, at pace, and in exactly the right areas to get Test batsmen out.
Do not underestimate how difficult it is to run in hard and do that. Lots of bowlers can swing it one way. Some can do it either way. But very few can both move it and land that moving ball in the tiny area where it does all the damage.
The wickets of Ramdin and Edwards, with the close nearly upon us, were a lesson in fine swing bowling.
Ramdin was fooled by the inswinger, Edwards expected the same and was done by one that went the other way.
Bresnan might look old-fashioned, as if he has just stepped out of the Yorkshire leagues. But over the past three years he has developed into a genuinely threatening Test bowler, and England are rightly extremely appreciative.
None of that, however, can disguise the woeful nature of the West Indies batting.
The shot that started it, Kieran Powell's drive to play on against James Anderson, was both symptomatic of the problems this top order has and a terrible waste of his wicket.
You can blame the pressure or inexperience. But that only takes you so far.
West Indies coach Ottis Gibson must be pulling his hair out. He is trying to go for young players, trying to build a new team and give players chances - and they are letting him down.
There is no way Powell should have played a shot like that, at a time like this, to a ball like that.
The third innings of a Test match is often a clincher. You can put yourself in a winning position, but equally you can go out there knowing you could lose it.
The key thing is to start well, to take that initiative and make your opponents feel under pressure instead. Let them worry that every run they concede makes it harder for them batting last on a deteriorating pitch.
Do not, under any circumstances, toss your wicket away. To be 14-2 is to be in trouble; to be 61-6 is close to being finished.
What makes it worse is that West Indies had enjoyed a really good day until that last session.
Most of us arriving at Trent Bridge had expected England to sail serenely past 500, Andrew Strauss maybe going to his maiden Test double hundred and Kevin Pietersen certainly going on to a big ton.
Fine bowling from Kemar Roach and Ravi Rampaul meant that was never close to being the case. In particular, Roach really roughed up young Jonny Bairstow and that could spell real trouble.
Everyone in Test cricket will now know that Bairstow is vulnerable to the short ball. It is a merciless world, and unless he can somehow sort out a method to deal with it he will get absolutely bombed.
South Africa are arriving next month with bigger, faster, meaner bowlers, coming in on pitches that are likely to be harder and quicker. They will target Bairstow without pity.
You can ask why we haven't spotted this flaw before. The answer is that he will not have faced anyone as fast and slippery as Roach in county cricket.
I'm certain that he will now be booked in for some lengthy sessions in Graham Gooch's batting clinic. They will use video analysis; they will use bowling machines; they will use hard work. He is a confident lad and that will help him.
The answers must come. Bairstow needs to be able to look back up the pitch at quick bowlers, to look into their eyes, and know he can cope with what is coming.
If not, the whispers will be relentless. And that can be the hardest thing - knowing that everyone is talking about you, about your weaknesses. It might sound cruel but that is Test cricket.