Jonathan Agnew column: England must be more ruthless

By Jonathan Agnew
BBC cricket correspondent at Trent Bridge
Last updated on .From the section Cricket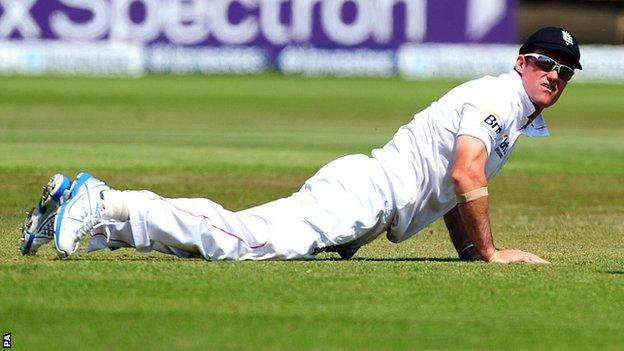 England fully deserved their nine-wicket win in this second Test, and with it the Wisden Trophy.
They will rightly take credit for that. What I wonder, if you dig a little deeper, is whether they have been ruthless enough in doing so.
It may sound like an unnecessary quibble. The series has been won comfortably. But England are the best team in the world, so our expectations must be correspondingly high.
Both at Lord's and here at Trent Bridge they had the opposition on their knees and then let them struggle back to their feet.
The result may have been the same. But when you have a team 61-6 and an attack like England's you should administer the coup de grace, just like they should have killed West Indies off at Lord's before the fifth day.
Against South Africa later this summer they will know that similar openings need to exploited ruthlessly and rapidly. Do not just open the door - blow the doors clean off.
The pattern in this series has been clear for a while. There is West Indian resistance, and you begin to think, 'this is OK, this is decent cricket'.
It doesn't last. And at the heart of it all is the lack of technique and application at the top of the order.
The middle and lower order in the shape of Shivnarine Chanderpaul, Marlon Samuels and Darren Sammy may sometimes ride to the rescue, but they cannot be expected to do so every time.
Andrew Strauss, with his century in the first innings here and 45 in the second, showed those errant batsmen exactly how to play in English conditions.
You get on the front foot when you can and you play straight - through mid-on and mid-off - cutting and pulling only if you are given width.
Too many of the West Indian batsmen play from the crease, or are nailed to the back foot. When you have a bowling attack capable of relentless accuracy, landing the ball just short of a good length on off stump all day long, you simply cannot survive like that.
Samuels played with great concentration and determination. But even he needs to get his feet moving more, to get off the back foot and be proactive.
I see something of Chris Gayle about him in his temperament. He doesn't want to appear hurried, or pushed. That's fine, but when it affects your batting you need to look at a bigger picture.
for the third Test next week?
When I spoke to Strauss afterwards I felt he was a little cagey. He can sometimes be quite dogmatic about selection, and I just got the sense that he hadn't ruled out resting Stuart Broad or James Anderson.
Neither of the two pacemen will want to be left out. Why would they? They are in form, they are fit and they are facing a dispirited side. There are Test wickets to be taken.
The best Test sides do not make changes unless injury or form dictates. There is also a sizeable gap between the end of this series and the start of the next against South Africa. If rest is vital it can be taken then.
I also feel that it short-changes the public somewhat. You buy your tickets expecting to see the best team England have available to them.
The replacements on hand are fine players. Steven Finn would do a solid job if called up at Edgbaston. But why tinker with a winning formula?
There will inevitably be discussion about Jonny Bairstow's place. I would stick with him.
For the next week he'll do nothing but work with Graham Gooch on how he plays the short ball. It won't be so much a change of technique they're after as a clarification - do you duck, do you sway, do you hook?
What you can't do is what Bairstow has done so far in this series, which is to be stuck between all those options.
He doesn't have to enjoy playing short-pitched bowling. No batsman does. You have a brute tearing in at you trying to break your ribs.
But you find your method to deal with it. Strauss sways out of the way of the nasty stuff and pulls if he can. Others will choose to duck.
Find your method; stick to your method. Bairstow will be in for a challenging week.