Dimitri Mascarenhas wants English franchise system
Last updated on .From the section Cricket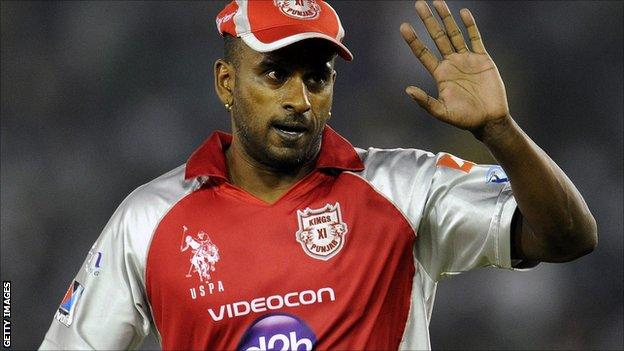 Dimitri Mascarenhas believes England would benefit from a franchise system similar to the Indian Premier League.
Hampshire all-rounder Mascarenhas, who has recently returned from India, feels young English players would profit from playing alongside world-class players.
The 34-year old told BBC Radio Solent: "I would love to see a franchise type system the same as they have got.
"If you get the best players in the world coming over and playing with our blokes, it can only make them better."
He added: "Every year [the IPL] unearths some local Indians that are going to be amazing players. They get the opportunity through the IPL, and get the opportunity to play against the best players."
The former England international believes that England has the infrastructure to handle an IPL-like system but that the major stumbling block for introducing this is the number of counties involved in first-class English cricket.
"England has some huge grounds and the conditions would be different. It is just different cricket and from that point of view I would love to see it over here."
"I think they would have to whittle it down to nine or 10 maximum but it's not that easy to do if all the counties want to have their piece.
"That's probably one of the reasons why it will not be done over here."
Mascarenhas' own future in the IPL is unclear, after his contract with Kings XI Punjab expired at the end of this year's competition, but he is looking to return to the sub-continent.
"My contract's finished, so if they want me back I just have to wait up. I'm at the stage now when I just want to play cricket so we'll have to wait and see," he added.