Hansie Cronje scandal: I am still scarred - Henry Williams
Last updated on .From the section Cricket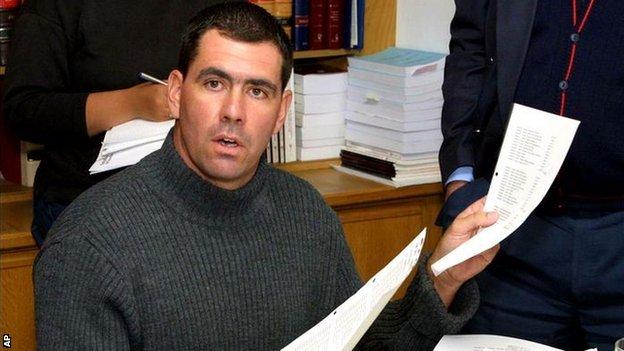 Henry Williams has told BBC Radio 5 live that his involvement in the Hansie Cronje cricket match-fixing scandal of 2000 has left a "permanent scar".
Williams, who played seven one-day internationals for South Africa, took around £10,000 from ex-captain Cronje to play badly against India in 2000.
"You can't forget things in life, it's left a permanent scar," said Williams, 44, who was banned for six months.
Cronje got a life ban for admitting to receiving £100,000 from bookmakers.
Fellow South African cricketer Herschelle Gibbs was given a six-month ban for his part in the scandal.
The week marks the 10th anniversary of the plane crash that killed Cronje.
"He [Cronje] never said, 'Sorry for what I did to harm you', or anything," added Williams. "He's dead now and he still worries me.
"When they [acquaintaces] sit with friends and have parties they will talk about it and say, 'There's that cheat walking'. You can feel people talking about you behind your back."
Meanwhile, former South Africa international Clive Rice said that more measures had to be put in place to prevent match-fixing scandals from happening.
"I think players need protecting," he told BBC Radio 5 live.
"A youngster coming through may not have wealthy parents. They suddenly have big carrots being dangled in front of them. They have to know to not get involved."