Hampshire sign Australian all-rounder Glenn Maxwell for T20
Last updated on .From the section Cricket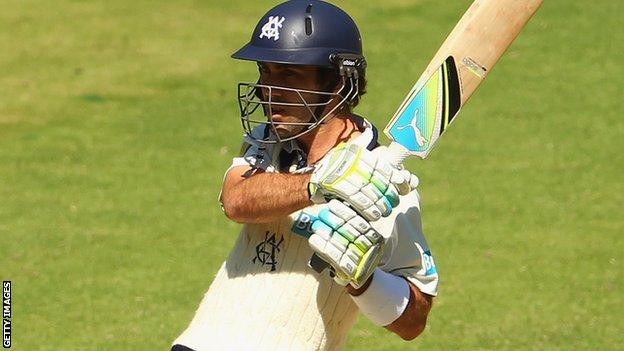 Hampshire have announced the signing of Australian all-rounder Glenn Maxwell for the forthcoming FL t20 campaign.
The 23-year-old began his Twenty20 cricket career in 2010 for Victoria in his homeland.
He holds the record for the fastest one-day 50 in Australian domestic cricket, coming off 19 balls, and hopes for more of the same at Hampshire.
Maxwell told BBC Radio Solent: "I like to try and entertain the crowds and keep the game interesting."
He added: "I like to re-live [the record 50] and I'd like to have a few more 50s like it as well.
"The last thing I want to be is a one-hit wonder so I'd like to create my own history and try and do it a few more times.
"I've seen a few of the crowds at T20 have been very good. I hope to see the ground packed out and hopefully get a few runs in front of a large crowd.
"I would find it really surprising if we weren't at the top somewhere.
"We have an amazing squad and some really gifted young players. Hopefully I can help us win a few games and the [T20] championship."
Maxwell has just returned from India, where he turned out for Delhi Daredevils in the Indian Premier League, and he believes that experience can only help his form at Hampshire.
"I got to rub shoulders with AB De Villiers and Brendan McCullum, who I rate really highly as cricketers, and just talk to them about their games was extremely beneficial to me and my cricket," he said.
"If you're not shy I think it's really easy to drag some knowledge out of those better players."