Alec Stewart column: Too early to judge Jonny Bairstow

By Alec Stewart
Former England captain and BBC Radio 5 live summariser
Last updated on .From the section Cricket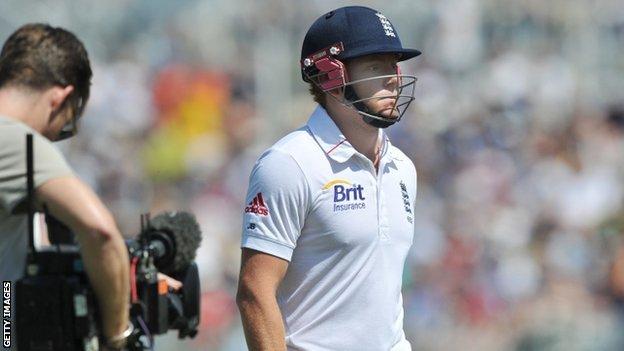 England produced another highly professional display to beat the West Indies at Trent Bridge and wrap up a seventh straight home series win.
The only negative was some of the questions raised over Yorkshire batsman Jonny Bairstow after his difficulties in the face of some short-pitched bowling from Windies paceman Kemar Roach.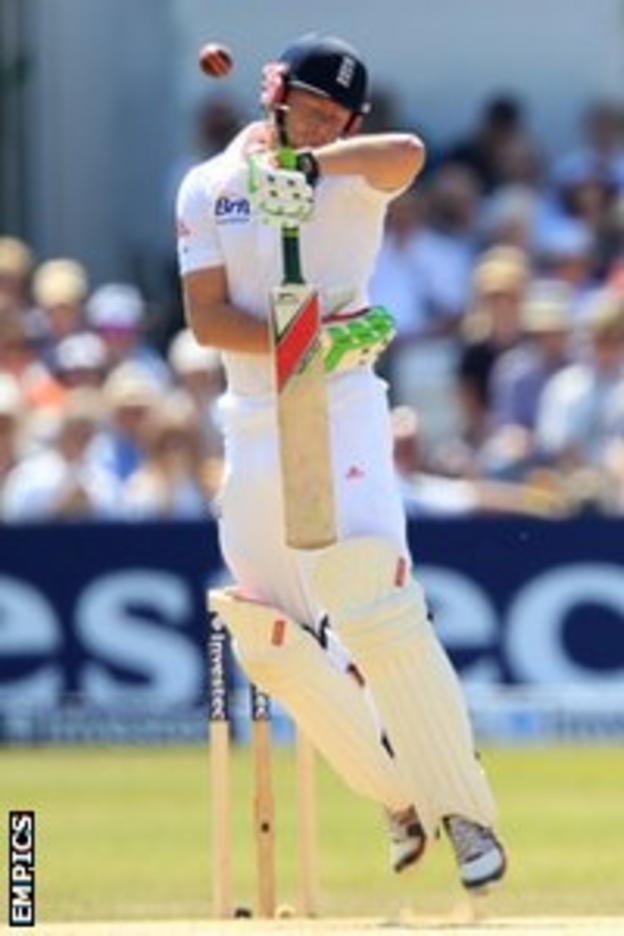 In my view, people have been far too quick to cast doubt over Bairstow's credentials as a Test player.
He was given a working over by Roach and was eventually caught off a leading edge, but it's far too early too say whether he has a genuine problem with short-pitched bowling or whether it was simply a bad 10 minutes, which everyone has at times in their batting careers.
On my Test debut, against the Windies in Jamaica in 1990, I gloved a ball from Ian Bishop from right in front of my nose to second slip. Anyone watching could easily have concluded that I had a weakness against short-pitched bowling, but it soon became clear that it was one of the strongest parts of my game.
Bairstow is a young player with huge potential who is still finding his feet in the Test match arena, but I haven't seen anything to suggest he can't be a fine Test cricketer.
If there are any issues that he is not happy with, I am certain that he will be working overtime with Andy Flower and Graham Gooch to put them right.
I was fortune enough to receive coaching and advice from Geoffrey Boycott during the early part of my career.
Before heading off to the Caribbean for that tour in 1990, he helped me tune in to the chin music I was likely to face by organising some intense training sessions at the indoor school at Headingley.
He had six young Yorkshire bowlers firing down brand new balls at me from 17 yards with a clear instruction to hit me on the head. If they didn't pitch it short enough they received a rollicking from the great man himself.
Those sessions were torrid, the toughest I have ever experienced. They lasted an hour and a half and I came out of them with a fair few bumps and bruises, but they ensured that I flew out to the Windies fully prepared for the type of barrage I would be receiving from their quick bowlers.
I'm a firm believer in the motto that if you practise hard, you play easy. Part of being a top player is finding solutions to any issues and constantly striving to better yourself. That applies just as much to young players like Jonny Bairstow as it does to players approaching the end of their careers.
While it takes a fair bit of nit-picking to find fault in England's batting, the Windies' problems are there for all to see.
Their inexperienced top four have found life very difficult and at the moment they don't look close to coming up with any answers.
The fundamentals of batting are the same at whatever level you play: shot selection, having the right mindset, not trying to hit the ball too hard and putting a high price on your wicket.
The Windies top four all have talent but they have been making some poor decisions at the crease and leaving their middle order with far too much work to do.
It is new territory for a lot of these players and they will not have previously faced a seam attack of the quality of James Anderson, Stuart Broad and Tim Bresnan.
Once again, the trio were outstanding at Trent Bridge and I was particularly pleased for Bresnan, who may not have the glamour of Anderson and Broad but is just as valuable to the team.
He puts in the hard yards in the middle of the innings but still has the talent to take wickets with the old ball. He is a fine cricketer who will just get better and better.
England's seamers all bowled more than 100 overs in the first two Tests and there will be some debate over whether one of them needs to be rested at Edgbaston.
I used to be totally against resting players because I believed you had to earn the right to play for your country, but I've now taken my blinkers off and appreciate that it's a tough international schedule. If there are little windows for rest, people should take them.
Anderson is the obvious candidate to sit out this Test and it is definitely worth a discussion. They will take a common sense approach, mindful of the need to respect the opposition and the game. But their most important concern will be picking a team capable of wrapping up a 3-0 series whitewash.