Kevin Howells column: What have we learned so far?

By Kevin Howells
BBC Radio 5 live
Last updated on .From the section Cricket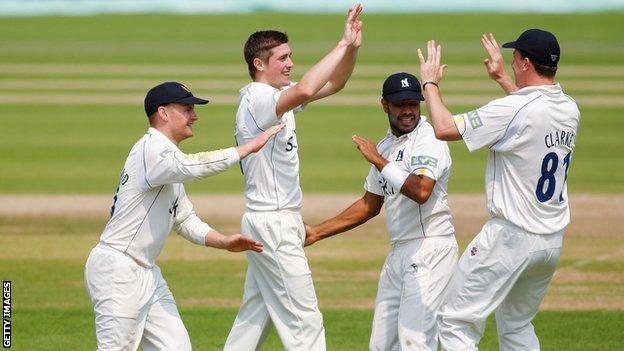 We're about to take a break from the County Championship but what have we learned about the shape the season will take?
Most neutrals will hope for another close and exciting finish. I hate seeing fixture lists where two teams play each other in close succession but top two Nottinghamshire and Warwickshire meeting twice in the last three weeks could be an ideal nerve-jangling finale to round off the season.
One-day internationals and Twenty20 matches, plus the World T20 starting the week after the season finishes, will have an impact on the players available.
From what I see and hear, Warwickshire's potential loss of Chris Woakes and a hopefully fit-again Boyd Rankin would be greater than Graeme Swann and Stuart Broad for Notts. Samit Patel would be a serious miss for Chris Read's side and an available Ian Bell would really boost Jim Troughton's men.
It's so far off that it's not worth spending too much time on the details but those two clubs have set the pace.
Bears bowling coach Graeme Welch is rightly getting plaudits for his work with Keith Barker and Chris Wright, while Nottinghamshire will hope Michael Lumb achieves his wish of gaining a regular average of 40 in first-class cricket.
Magnificent to watch in full flight, he has scored some ugly runs as well this year. We are all closely following the progress of the gifted grafter James Taylor. England Lions will call him away again but in the meantime he would love to get some county runs.
It would be wrong to write off anyone but, going on the evidence to date, there is a chasing pack headed up by Somerset.
The story at Taunton has been among the most exciting, with Nick Compton's bid to reach 1,000 first-class runs before the end of May, experienced men unavailable through injury or otherwise and replaced by impressive fresh youngsters.
Those old stagers need to return as the young pretenders will be away at the Under-19s World Cup in August. Craig and Jamie Overton will be representing England and George Dockrell will be with Ireland there and later on at the World T20. Craig Kieswetter and Jos Buttler will no doubt be on full England duty.
They will be leaving behind Alfonso Thomas, who led them so well against all the odds last year, especially when Somerset surprised us all at the Champions League, and Steve Kirby should be charging in leaving nothing behind in the changing room.
Pens were poised a couple of weeks ago to run the rule over the defending champions Lancashire and ask what was going wrong when they were heading towards a thumping following-on in Birmingham against Warwickshire.
It's no over-statement to say it was an important innings from Paul Horton, saving the game by batting for seven and a half hours and scoring an unbeaten 137.
Lancashire went with the wrong team selection at Edgbaston, Glen Chapple was unable to bowl with what at the time looked a potentially big injury, and it all appeared a bit bleak.
But even at the time I was thinking back to the previous month at Aigburth when Warwickshire, now seemingly the team to beat, were 81-7 but turned it around thanks to excellent performances from Darren Maddy and Rikki Clarke.
The fact they did turn it around is testament to their depth and is reason to back them, but had it not happened who knows what could have followed in the weeks after.
Lancashire coach Peter Moores is telling his players to get stuck in, and have a bit of confidence to show that even if this same bunch of players don't win the title again they can certainly mount a challenge.
If the London clubs have shown their full cards this season it will be mid-table comfort for them both, although they may have more to come.
Surrey and Middlesex have the youth who can shine and the gritty experience to pull them out of trouble when necessary. Surrey's Tom Maynard is an exciting player who appears to be coming along well, while Chris Rogers of Middlesex is a reliable performer any team would benefit from.
Whenever Durham are struggling you tend to look at the age of the squad and for some it's a worry. Experience counts for a lot but winning is essential and they are still to do so.
Head coach Geoff Cook is right to point out how many matches remain. Relegation battles are not for this time of the year but also they need to build on glimpses of good batting at Taunton.
Among those glimpses was young Ben Stokes. He has an X-factor, no doubt, but a bit of head down might be in order sometimes. Graham Onions, when available, can't carry them all.
Watching left-arm swing bowler Jamie Harrison on his debut at Somerset was a joy. Aside from a no-ball issue - and a serious one at that - he looked the part and will cause problems. I also loved his almost regimented way of bowling and getting straight back to his mark. It's the type of no nonsense attitude I love.
Monty Panesar needs to come up with the goods for Sussex. He needs to put in match-winning performances to back up a battling line-up which should improve as the season goes on. Murray Goodwin will hope he has turned the corner after scoring 74 against Nottinghamshire, while Chris Nash is in good form.
Worcestershire, like Durham and Lancashire, are without a win yet and losing Alan Richardson to injury was a set-back.
Phil Hughes says he want to score "'a mountain of runs" and he may well do against county opposition. To avoid the drop is again their main goal but in doing so they will give all of the above a game that will have to be hard fought to win.