Geoffrey Boycott praises 'star' batsman Jonny Bairstow
Last updated on .From the section Cricket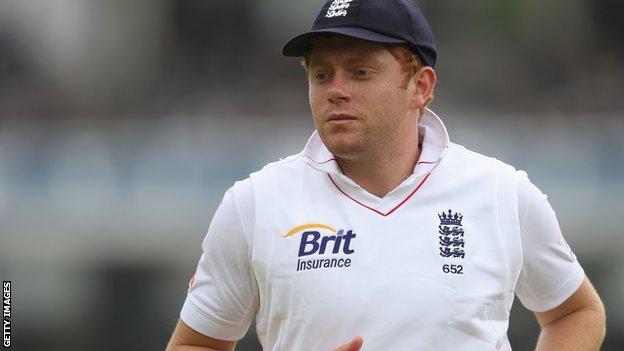 Yorkshire president Geoffrey Boycott believes young England batsman Jonny Bairstow has "star quality".
"The kid has got something. He's a natural sportsman," Boycott told BBC Radio Leeds.
"He has the ability to take a bowling attack apart. He just has that little bit of star quality."
He added: "He's just a kid at 22 so he's maybe been selected a little earlier than we expected but you can't choose when you get selected."
Former England captain Alec Stewart came out in support of Bairstow after questions were asked about him being targeted by the Windies bowlers.
Boycott is confident the son of ex-England international David still has what it takes to achieve at international level.
"No one says it's easy to step up from county cricket," he continued.
"Most of us struggled initially. Len Hutton was dropped, I was dropped, Don Bradman only played once before he got dropped, people forget that. I'm not saying Jonny will be but I'm pointing out we've all had problems.
"He's talented and he'll work it out, but if he is left out then he'll come back stronger.
"I think he'll be a better batsman and a better wicketkeeper than his dad. I don't say that lightly as I adored playing with his father."
The former Yorkshire and England batsman was bullish on his county's future as they look to achieve promotion from the second division of the County Championship at the first attempt.
"I don't want us just back in the first division, I want to see us winning it," he concluded.
"It's our 150th year next year and it would be nice to win the Championship in that year.
"It doesn't matter if that puts pressure on the players, they need to be able to live with it.
"All of the players and members know where I stand. I think they've got a good chance."