Gloucestershire welcome Nevil Road development approval
Last updated on .From the section Cricket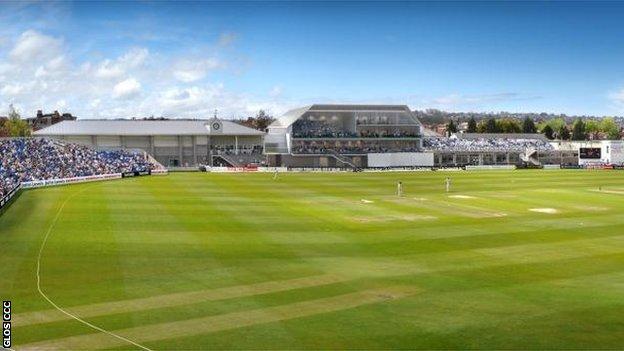 Gloucestershire chief executive Tom Richardson says he is pleased the club have finally be granted permission to upgrade their ground.
However, re-submitted plans were approved on Wednesday.
"This is the result we were seeking and we're very pleased," Richardson told BBC Radio Bristol.
Gloucestershire wanted to re-develop their home ground in order to host international cricket and to add to their revenue through corporate events.
The proposals included increasing the capacity of the stadium to 17,000 seats, building a new media centre and an apartment block overlooking the ground.
The height of the flats was the main reason for the original plans being rejected - they were described as a "blot on the landscape" by some opposition parties - but after changes were made to the design, the council gave the development the go-ahead.
It means the club should now be able to honour two England internationals they had already been awarded against India in 2014 and Sri Lanka in 2016 - although the delay means they have missed out on the match against New Zealand next year.
Gloucestershire are also looking to bid to stage World Cup games in 2019.
"The next phase is to get building," Richardson continued. "We will then be in a position with the games we have been allocated, we can lay them on and go forward in to the next period.
"They'll also be some extra games which we can now compete with and we'll be in a good position.
"It puts us on the map. When we play India in 2014, they'll be 100 million people worldwide focusing on Bristol. How good is that?
"We're an extremely good venue and we normally sell those games very quickly. It's got a lot of benefit for the city."
Richardson confirmed the building work would be set to start in September and would run as a 37-week programme.