Jonathan Agnew column: Don't blame Kevin Pietersen for quitting

By Jonathan Agnew
BBC cricket correspondent
Last updated on .From the section Cricket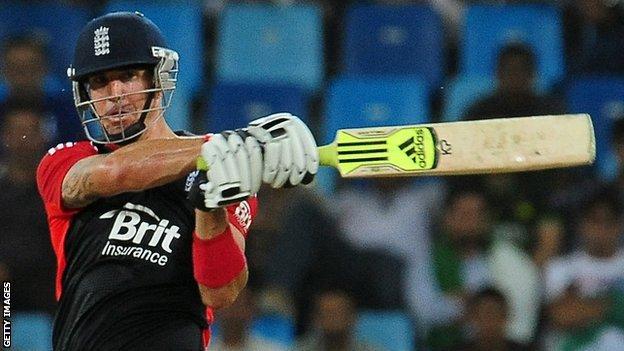 You can't blame Kevin Pietersen for retiring from one-day and Twenty20 international cricket. How can you?
There's far too much one-day cricket played - tacked on to the end of arduous tours - and the players are fed up with it all. I'm blue in the face from saying this.
These tours are very time-consuming, Pietersen has a young family, he's pushing 32 and he's making lots of money playing in the IPL. You can see that playing one-day cricket is the last thing he wants to do.
But it's a shame he and the England and Wales Cricket Board couldn't come to some sort of agreement.
England will defend their World Twenty20 title in September and it's in everyone's interests to have Pietersen playing in that. We mustn't forget he was player of the tournament last time, and he scored hundreds in his last two one-day innings, against Pakistan last winter, so he's still good enough.
It's clear he wants to play in the World Twenty20, so you'd think this matter could have been managed behind closed doors. England could have rested him for some one-day cricket this summer, let him play in the World Twenty20, and then he could have packed it in. Only the ECB and Pietersen will know why this hasn't happened.
As recently as February he said he was focusing on the 2015 World Cup, but Pietersen thinks and acts like he bats: he's very impulsive.
That's the sort of person that he is. He'll have come to his decision and said, 'that's it' - probably not very long ago. I'm not surprised at the decision, more the timing of it.
He might regret it one day - but I doubt it. He is in a great position in that he can afford not to play ODIs and T20s. He has his reputation in the Twenty20 market and he's playing Test cricket as well, so he doesn't need England for limited-overs cricket.
As far as Kevin Pietersen Ltd is concerned, and as far as Kevin Pietersen the family man is concerned, he's going to be fine. He's not going to be away from home as much as he was, but he's still going to make a lot of money.
I can fully understand the ECB's position. You can't let players pick and choose between formats, otherwise they'd be ducking out of the Twenty20s at the end of a tour, which are as welcome as a parking ticket.
A team is a team and that's the way it should be. It wouldn't be right if the ECB starting making special treatment for one player, whoever that player is. Pietersen knew the rules.
Does this mean he will play Test cricket for longer? I'm not sure. He won't be away as much on tour, and he should play more first-class cricket for Surrey.
But at the same time he's going to have to knuckle down and play some proper championship innings for Surrey. That's the one warning sign I can see.
England coach Andy Flower will tell Pietersen: "If you want to be considered you're going to have to get some proper runs under your belt."
He will be picked on merit and on form - just as everyone else is. But if he goes off playing in the Indian Premier League, the Big Bash in Australia or wherever else he wants, and he hasn't been playing any county cricket, I don't think it will count in his favour.
He will have to make sure he's in proper Test-playing mood when he comes into a Test series - or he'll find his Test career won't last much longer.
But I can see Pietersen playing Test cricket for another two or three years - until he's 34 or 35.
He will definitely be playing in the IPL for a good few years yet, as long as he keeps himself fit. So we'll see plenty more of Kevin Pietersen in coloured clothes - just not England ones.