Switch-hit given OK by International Cricket Council
Last updated on .From the section Cricket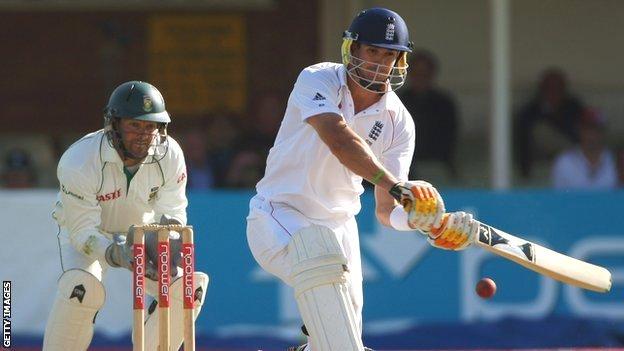 The switch-hit has been declared a legitimate shot by an International Cricket Council (ICC) committee.
Further guidance from the Marylebone Cricket Club (MCC) will be requested so laws can be worked out for all levels.
England batsman Kevin Pietersen first unveiled the shot, in which the right-hander switches his stance and grip to hit as a left-handed batsman.
An ICC statement said: "The committee decided to make no change to the current regulations."
Pietersen was warned by umpires on day three of the second Test against Sri Lanka in April for time wasting, because bowler Tillakaratne Dilshan chose not to release the ball when he saw the batsman shape to play the switch-hit.
There will be further consultation with players and match officials before the MCC reports back to the ICC.
The ICC statement added: "In May 2009, the ICC Cricket Committee endorsed an MCC view that the switch-hit was an exciting shot, which offered the bowlers a good chance of taking a wicket and thus one which should remain a legitimate part of the game.
"With the more frequent and skilful use of the switch hit, the committee again considered the matter from the perspective of retaining a fair balance between bat and ball."
In its annual meeting at Lord's, the ICC committee also heard that a prototype sensor has been developed, which can be worn during matches and is capable of producing data that indicates whether a bowler's elbow straightens as they deliver the ball.
The rules state any bowler cannot straighten an arm more than 15 degrees when releasing the ball.
The ICC also decided to keep the Duckworth/Lewis method - used for calculating revised targets in weather-affected matches - rather than opt for the proposed VJD method, and reaffirmed its support for the Decision Review System.
Proposals to abolish the bowling powerplay in one-day internationals, and allow two bouncers per over, are set to be ratified by the full ICC board in June.