Australia's one-day tour of England under threat, claim reports
Last updated on .From the section Cricket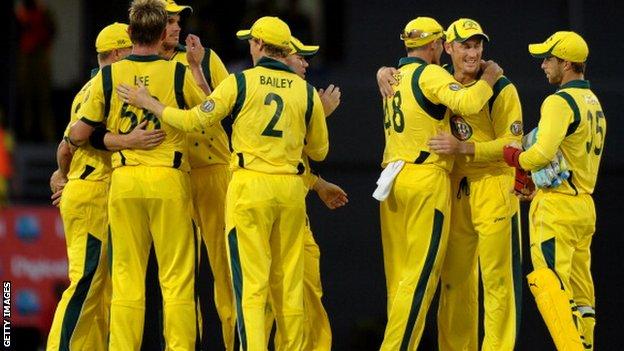 Australia's cricketers could boycott the one-day tour of England this summer, according to a report in The Australian newspaper.
Australian Cricketers Association' head Paul Marsh said there was the possibility of industrial action over performance-related pay issues.
They are due to face England in five one-day internationals, with the first at Lord's on 29 June.
Marsh said: "We're looking at all options."
The Oval, Edgbaston, Chester-le-Street and Old Trafford are also scheduled to host one-day internationals in July, while Australia's schedule includes limited-overs games against Leicestershire and Essex.
In addition, the tourists are expected to face Ireland in Belfast on 23 June.
Australia's players and governing body Cricket Australia were talking about moving to performance-related pay but complications have arisen in the negotiations.
Marsh said there were contingency plans should a resolution not be agreed with Cricket Australia before 1 July.
He added that his members were preparing for the possibility of an industrial stand-off if there was no contract in place before the current one ends.
"There are only 29 days of negotiations left to run, so of course we are preparing for the eventuality of not having a deal in place before the end of July," Marsh said.
"We are looking at all of our different options."