Alec Stewart column: Could James Anderson copy Kevin Pietersen?

By Alec Stewart
Former England captain and BBC Radio 5 live summariser
Last updated on .From the section Cricket35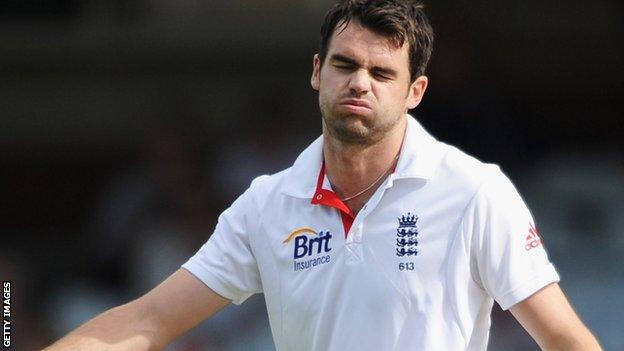 The England selectors' decision to rest James Anderson has been done with the best interests of the team and the player's longevity at heart, but I can understand why he might be frustrated to miss out at Edgbaston on Thursday.
When I was playing, I didn't want to miss any game - whether it was an international or a match for Surrey.
If I was fit, and certainly if I was playing well, I wanted to keep playing. That is how I was, and that is obviously how Jimmy is feeling right now.
Jimmy recently said he wants to finish his career as England's leading Test wicket-taker of all time, overtaking Sir Ian Botham's record, so this is a game that he will miss in pursuit of that aim.
With the retirement of Kevin Pietersen from limited-overs cricket last week, might this be something Jimmy is now considering?
I am certainly not recommending it, but it could be a question going through Jimmy's mind. He probably values Test cricket at the top of his priorities and, if he wasn't playing the other forms of the game, would he have been left out of the third Test?
Whatever thoughts Jimmy may be having, he has to make sure there are no kneejerk reactions.
He is going to be frustrated from a personal point of view but, on the flip side, England have got a ridiculous schedule coming up over the next 12-18 months which they need him to be involved in.
However, if England didn't have such strong resources as back-up in Steven Finn, Graham Onions and Chris Tremlett - once he is fit again - would they be making this decision?
It's not just the player who will be upset by this decision because, judging by the response I have had on Twitter, the paying public are concerned too.
They want to see England's best side, but sport is always evolving. Look at football, where rotation of players has been happening for a long time.
Anybody who says the selectors have not shown respect to Test cricket should realise the series has been won and, while England still want to win it 3-0, they have shown, by resting Jimmy, they are taking 50-over cricket seriously.
The biggest problem is the itinerary - that is what needs looking at. There is far too much international cricket being played and you can understand why players are rested and why others are retiring earlier than they might have wanted to.
It was disappointing to see Pietersen retire from the 50-over format and, as a result, the Twenty20 side last week too.
It is written in the player's contracts, whether they agree with them or not, that they cannot pick and choose between the shorter formats and Kevin will have been aware of that.
You always have to respect people's decision, but the consequence is we won't be seeing our best Twenty20 player in the England team any more.
It is a huge blow for KP, England and their supporters.
I can understand why the ECB has this rule, otherwise you will see more people retire from the 50-over game because it might free them up for more cricket in other competitions around the world. Ultimately, the ECB is showing respect to the 50-over game.
However, England's loss is Surrey's gain. Kevin will be given a well-deserved rest after this Test series, but it will be good to see him playing in the domestic Twenty20 competition when he returns.
People who aren't able to get to international matches can come to county games and watch him in action, so it is not all doom and gloom.