Greg Leighton follows in father Jeremy's Herefordshire footsteps
Last updated on .From the section Cricket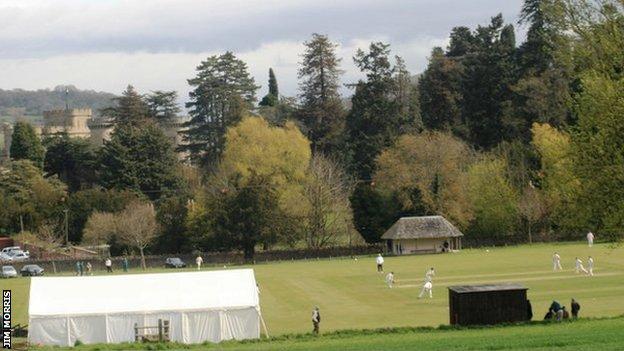 Bromyard all-rounder Greg Leighton is set to create history when he makes his Herefordshire debut against Cornwall at Eastnor on Sunday.
Leighton's father Jeremy made 76 in Herefordshire's first-ever match against Wales at Brockhampton in 1992.
And, 20 years on, Leighton Jnr's appearance will make them the first father and son to represent Herefordshire at Minor Counties level.
Herefordshire also give a debut to Kidderminster's Andrew Kimberlin.
Skipper Chris Boroughs goes into the game in top form, having hit 190 and taken 4-59 for Brockhampton in last Saturday's whopping 246-run Birmingham League win over Leamington.
Spinner Charlie Griffiths, another of the four Brockhampton players in the Herefordshire team, also claimed a four-wicket haul in the same game.
Ben Stebbings and Charlie Walker are unavailable due to university commitments, while Brad Wadlam is on Unicorns duty.
Herefordshire: C Boroughs (Brockhampton) capt, M Hingley (Old Hill), D Exall, (Brockhampton), S Adshead (Astwood Bank) wk, D Cox (Old Hill), A Kimberlin (Kidderminster), N Powell (Barnt Green), G Leighton (Bromyard), C Stewart (Brockhampton), C Griffiths (Brockhampton), S Bevan (Barnt Green). 12th man: T Austwick (Brockhampton).