Umpire Billy Doctrove retires from ICC elite panel
Last updated on .From the section Cricket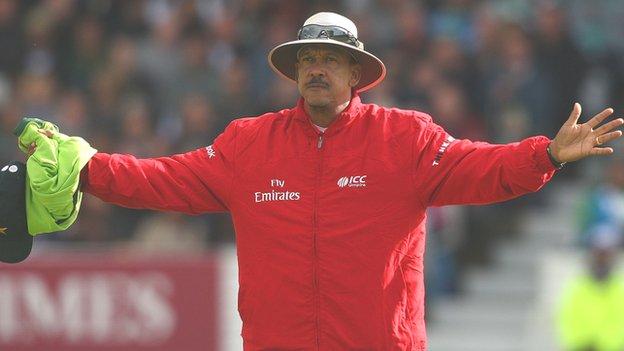 International Cricket Council elite panel official Billy Doctrove has announced his retirement from umpiring.
Doctrove withdrew from what would have been his last assignment as an elite panelist as he had to return to Dominica due to a family bereavement.
The 56-year-old West Indian stood in 38 Tests, 112 one-day internationals and 17 Twenty20 internationals.
"It has been an incredible 14 years for me as an international umpire and I've enjoyed every moment of it," he said.
Doctrove was promoted to the international panel in 2004 before being elevated to the elite panel in April 2006.
He and Darrell Hair officiated in the controversial Oval Test between England and Pakistan in 2006, forfeited by Pakistan following a row over alleged ball tampering.
Doctrove took charge of the World Twenty20 final between England and Australia in 2010, and the second Test between New Zealand and South Africa in Hamilton in March proved to be his final match.
Vincent van der Bijl, ICC umpires and referees manager, said: "Billy has been an excellent servant of the game and we thank him on behalf of the entire cricket fraternity for his outstanding contribution as an international umpire for 14 years.
"To have remained as one of the game's top officials for that length of time has required Billy to be self-motivated, confident and well respected.
"Billy is a very special man, with strong values, firm beliefs yet with an underlying gentleness and humour, and a great family man - a wonderful blend."