Matthew Maynard backs struggling Glamorgan to start winning
Last updated on .From the section Cricket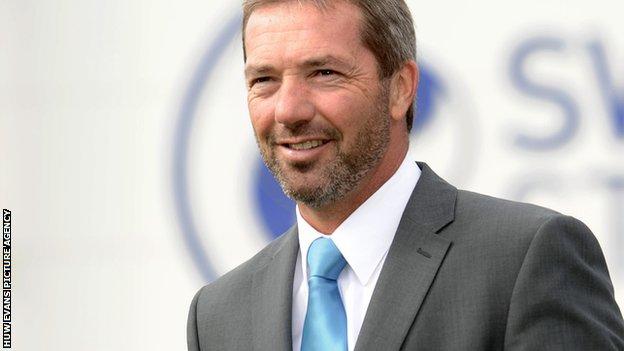 Matthew Maynard is confident Glamorgan will turn their form around after a dismal start to the season.
The Welsh county have not won a game so far this season.
But Maynard, who resigned in 2010 as Glamorgan director of cricket, believes there is no need to panic.
"There is certainly the talent there in the dressing room and I am sure they will turn it around," said Maynard, who has been voted Coach of the Year in South Africa.
Maynard resigned from Glamorgan after he claimed his position had become "untenable" when a new head of coaching was appointed above him, and a new captain was brought in.
He is currently the coach of the Nashua Titans, one of the six South African domestic cricket franchises, and has enjoyed a successful first season, winning the domestic four day and Twenty20 competition.
Glamorgan, meanwhile, are still searching for their first victory of the campaign, having failed to win any of their first 11 games in all competitions.
But Maynard, who has verbally agreed a new contract with the Titans in South Africa until 2015, believes patience is key for Glamorgan.
"I think they have been close in matches," said Maynard.
"They haven't been hammered in any games. It's just the small margins which occur in sport.
"If they had managed to get over the line in a couple of their earlier games they would have turned what has not been a great start into a more productive start."
"I think it's about just being patient with the guys there and give them time."
Maynard believes the recent changes in personnel - both on and off the field - has hampered Glamorgan's progress, but he is confident the current squad can perform in the upcoming T20 competition.
"There have been three or four captains in the space of three seasons and that is always upsetting and not easy to work with at times for a coach," said Maynard.
"But they haven't played that badly. They look very strong on paper for the 20/20 competition and I think they will do well in that competition."
Glamorgan open their Friends Life T20 campaign away to Northamptonshire on Thursday, 14 June.