England v India: Is Graeme Swann better than Jim Laker?
By Sam Sheringham
BBC Sport
Last updated on .From the section Cricket23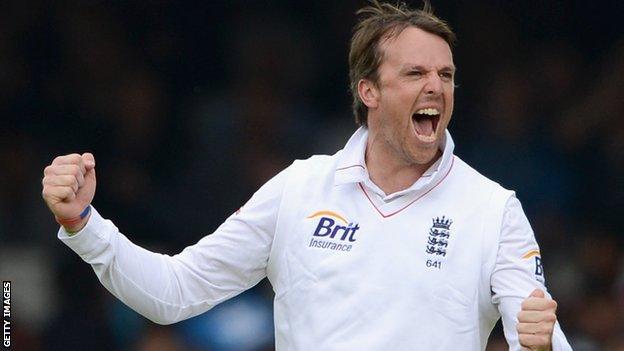 Graeme Swann announced his arrival in Test cricket in 2008 by becoming only the second player in history to take two wickets in his first over.
In the four years since, the England off-spinner has rarely departed from centre stage.
He has been picking off illustrious predecessors in the England wicket charts like a Formula 1 driver lapping back-markers and surpassed the legendary Jim Laker on Thursday to become England's most prolific off-spinner.
Controversially dropped for the Headingley Test against South Africa in August, Swann underlined his value to England with four wickets against India on an otherwise chastening opening day of the first Test in Ahmedabad.
With the second of those scalps, he surpassed Laker's tally of 193 wickets and now has 196 in 47 Tests at an average of 29.41.
Laker, who famously claimed 19 Australia wickets in an Ashes Test at Old Trafford in 1956, played 46 Tests in total and took his wickets at a significantly better average of 21.24,
But former England off-spinner Vic Marks is reluctant to choose between two players from vastly different eras and instead credits Swann with transforming the image of conventional off-spin.
"While Shane Warne revolutionised people's thinking about leg-spin, before Swann came along everyone thought orthodox finger-spin was dead," Marks told BBC Sport. "But Swann has shown that if you are good, aggressive and clever, it's not dead at all.
"He doesn't do anything mysterious, that's the amazing thing about him. He's an unmysterious finger spinner who has been just about the best in the world for two or three years.
"I would hesitate to say he is better than Laker, but he's in the same parish. He is a terrific off-spinner who takes wickets at an alarming rate and has gone past a lot of my heroes like Fred Titmus, Ray Illingworth and John Emburey."
Ever since that dramatic arrival in Chennai, when he trapped India stars Gautam Gambhir and Rahul Dravid lbw with his third and sixth balls in Test cricket, Swann has retained a canny knack of striking in the first over of a spell.
In the 2010-11 Ashes in Adelaide, with rain on the way, England needed to take six wickets on the final day of the second Test to wrap up an innings victory and take a 1-0 lead in the series. Swann struck three times in four overs to seal victory before the heavens opened.
"He has a very positive mental attitude, lots of self-belief and he relishes the task in hand," says slow left-armer Phil Tufnell, who took 121 Test wickets for England between 1990 and 2001.
"He has an amazing knack of taking wickets when you least expect it and that is about keeping yourself on the ball so you don't get down.
"No-one likes getting hit but every time he bowls he wants to take wickets. He spins it hard, likes to bowl that 'tiger' line outside off stump and threaten both edges. That's why every ball he bowls is a potential wicket ball. He's got to be up there with the best we've ever had."
In England's four-man attack, Swann is often required to hold down an end for long periods while the seamers are rotated at the other end. Rarely on the periphery of the action for long, however, he is often at his most dangerous in the closing stages of a long day's play.
Against Sri Lanka in April in Colombo, he removed Thilan Samaraweera and nightwatchman Suraj Randiv in the penultimate over of the day to swing the match decisively in the tourists' favour as they claimed their first victory of an otherwise miserable winter.
"He's a very street-wise bowler, with a terrific cricket brain that belies his jovial cricket character," said Marks.
"Occasionally he bowls badly, but he can bowl badly for 15 overs in a day and then suddenly take two or three wickets in the last two overs of the day and change the game.
"What separates Swann from many of his England predecessors is that he is much more aggressive. It is only a matter of inches but when he's bowling to right-handed batsmen he just bowls a little bit wider, and if you do that you open up the possibility of the batsman scoring runs.
"But you also open up the possibility of taking more wickets because you might get the outside edge as well as the inside edge."
One caveat often held against Swann's achievements is that he gains plenty of assistance from the Decision Review System.
Brought in to correct umpiring errors, it has caused a spike in the number of lbw decisions given in the favour of spin bowlers by showing how often the ball would go on to strike the stumps even when a batsman plants his front foot a long way down the crease, and clearing up the ambiguities in bat-pad decisions.
Indeed, Swann has taken 29% of his Test wickets with lbw verdicts, compared with Laker's 16%.
"Spin bowlers today have a lot of things going for them," says former West Indies off-spinner Lance Gibbs, who took 309 wickets in 79 Tests between 1958 and 1976.
"Off-spinners like Titmus and Laker were great bowlers who never had the advantage that Graeme is having now with bat-pad decisions and the review system.
"Wickets now are far more conducive to spin bowling than when I played. Not taking anything away from Graeme - he has done extremely well and I'm delighted to say well done to him."
Swann has made clear his desire to carry on playing Test cricket for some time yet, even if that means giving up the shorter forms of the game.
Tufnell believes Swann is capable of overhauling Derek Underwood's 297 wickets and becoming the most successful slow bowler in England history.
"In another 20-30 Tests, he could get another 100 wickets so it wouldn't surprise me," said Tufnell. "He's a great team man, a good slip catcher, and he bats well. He's one of the main reasons England got to number one in the world."
Additional reporting by BBC Sport's Mark Mitchener.