Glamorgan need Twenty20 vision to lift Swalec Stadium gloom
By Nick Webb
BBC Sport Wales
Last updated on .From the section Cricket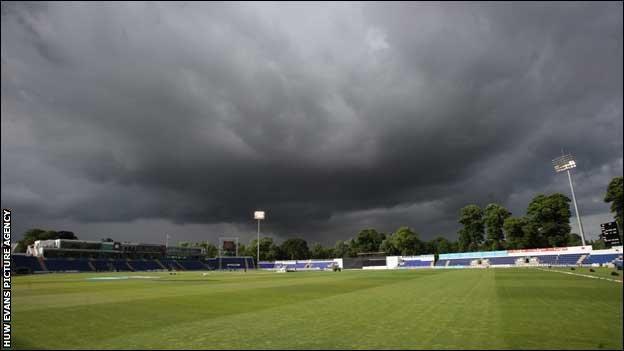 Ten days to save a summer.
That is the stark reality facing Glamorgan's cricketers as they prepare to tackle the most lucrative and concentrated format of the game under the Welsh Dragons banner on the back of a bleak first two months of the season.
The situation seemed reasonably promising before Easter, with a pre-season that brought a remarkable amount of sunshine and a series of friendly victories.
But as the sunshine disappeared, so the runs dried up for the county's batsmen.
Though most games were dominated by bowlers around the country, Glamorgan's run recession proved deeper and longer than most.
It has taken the county 13 games to secure their first victory of the season, an opportune time as the Dragons prepare for .
The Unicorns arrive at The Swalec Stadium on Tuesday in a warm-up for Thursday's competition opener in Northamptonshire.
Any reasons to be cheerful then? Dragons Twenty20 captain Jim Allenby certainly believes so.
"I think it's the strongest batting line-up in the competition almost without doubt," he proclaimed to BBC Sport Wales.
That might seem a remarkable assertion, but could it be true?
Well, first of all Allenby's roped in his old rival from his Australian schooldays Shaun Marsh to provide a figurehead for the batting.
The 28-year-old from Western Australia has played international cricket this year and his overall T20 figures make impressive reading - an average of 40 and a strike-rate of 135 runs per 100 balls.
Then there's the classy Marcus North, who has already in the runs after his belated arrival in Wales, and looks capable of taking the pressure off his batting partners.
The surprise addition of former Kent stalwart Martin van Jaarsveld, now at the veteran stage but straight off the back of a South African T20 title with Matthew Maynard's Nashua Titans.
"Marsh has won as many games as anyone around and I can't wait to play cricket with him, he's a match winner," said Allenby.
"As for Martin van Jaarsveld, once again a winner who's used to winning games and expects to win games - they're the sort of guys I want in the side."
Also in the top order will be Allenby himself, who has a strong track record despite his shortage of runs this season, with Stewart Walters, the inventive Gareth Rees and the potential big hitter Chris Cooke probably the main contenders for two remaining batting places.
Wicket-keeper and captain in the other formats Mark Wallace, another unconventional striker, will be expected to contribute with the bat while veteran Robert Croft has been one of the competition's meanest bowlers and is likely to be in harness with Dean Cosker in their familiar spin-twins partnership.
As far as the seam bowling is concerned, former England paceman Simon Jones is likely to be a regular.
James Harris will be keen to make up for his late start to the season, while Alex Jones deserves another chance after his impressive performances last summer. Will Owen is also likely to see a fair degree of action with the games coming thick and fast.
If the Dragons live up to their potential, they could challenge for a place in the knockout stages - but it has been a tale of unfulfilled potential since their solitary finals day appearance at Edgbaston back in 2004.
"Having been to a couple already [with Leicestershire], I know how big they are, they're as close to international cricket as you get for a county player," insisted Allenby.
And there's the added incentive of the finals being staged in the Dragons' own Swalec Stadium, which should be mostly full at least for the county's opening home game against Warwickshire Bears on the 17 June, courtesy of a massive ticket giveaway backed by the ground's sponsors.
Will many of the freebie ticket holders pay hard cash to return?
They can get the party atmosphere in plenty of places - now what they need is some winning cricket, preferably with sixes flying and the scoreboard flashing at a furious rate.
Home-grown heroes may be at a premium with most of the team's top order coming from southern hemisphere backgrounds but that will be quickly forgotten with a couple of early wins.
If those are not forthcoming, the old joke about the end of season dinner being fixed for June may be uncomfortably near the mark.
Ball by ball coverage of the Welsh Dragons T20 campaign is on BBC Radio Wales MW and digital and on the BBC Sport website, with Edward Bevan and Nick Webb joined by summarisers Steve James, Tony Cottey, Graham Wagg and Steffan Jones.