West Indies players need county experience - Lance Gibbs

By Sam Sheringham
BBC Sport at Edgbaston
Last updated on .From the section Cricket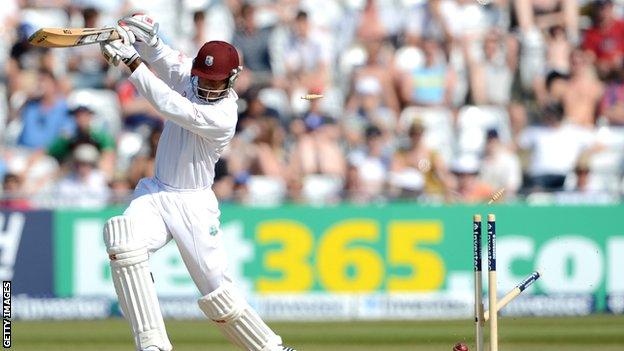 West Indies legend Lance Gibbs has urged more of the current team to play county cricket in England to help revive their fortunes in Test cricket.
Only two members of the Windies side playing against England in the third Test at Edgbaston have played first-class cricket for a county side, with Darren Bravo playing four times for Nottinghamshire in 2011 and Tino Best nine matches for Yorkshire the previous season.
That contrasts with the glory era of Windies cricket when the likes of Clive Lloyd, Viv Richards, Malcolm Marshall and Courtney Walsh would all play full summers for English county sides.
"All of our great players have had exposure in English cricket, whether it is league or county, where the ball swings and swerves," Gibbs, 77, told BBC Sport.
"They put their games together in foreign conditions and became successful."
Gibbs, who played 79 Tests between 1958 and 1976, was the second bowler in Test history to reach 300 wickets.
He played for Warwickshire between 1967 and 1973, taking 131 first-class wickets at an average of 18.89 in 1971, a performance that gained him a Wisden Cricketer of the Year award the following year.
"These young players have never had that. In English conditions, anybody could pick up a ball and make something happen with it and our playes need to learn how to deal with that."
The West Indies, who did not lose a single Test series between 1980 and 1995, have been in steady decline ever since, winning only two of their last 32 Tests and currently sitting seventh in the ICC Test rankings.
England, meanwhile, are top of the table, their victories over the Windies at Lord's and Trent Bridge making it seven home series victories in a row.
Gibbs, however, believes great teams come and go in cycles, and is confident that the West Indies will one day be a force in Test cricket again.
"Every cricketing nation has ups and downs," he said. "If you check the number of Test matches played between England and the West Indies you will see that we are ahead [by 53 to 45].
"You are doing particularly well now but we will return."