Denesh Ramdin's Viv Richards message costs him 20% of match fee
Last updated on .From the section Cricket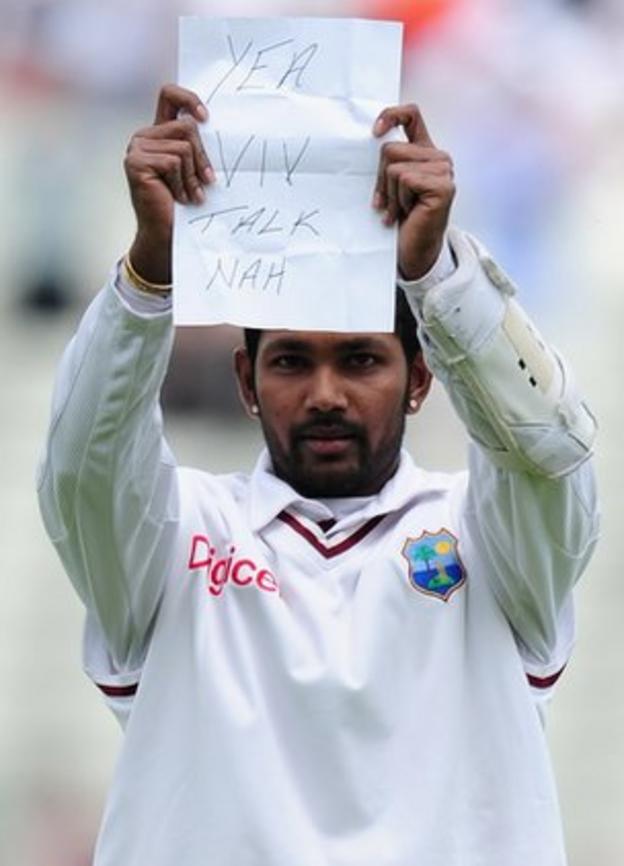 Denesh Ramdin has been fined 20% of his match fee after marking his century against England by displaying a public message to Sir Viv Richards.
The West Indies wicketkeeper held up a note that said "Yeah Viv, talk nah," in an apparent response to criticism.
But he pleaded guilty to breaching the ICC Code of Conduct in the third Test.
Roshan Mahanama of the Elite Panel of ICC Match Referees said it was vital "we don't allow a precedent to be set with such a premeditated celebration".
The statement continued: "We all understand the importance of celebrating a milestone, however, one should not use that time as an opportunity to hit out at one's critic or send messages to the world.
"I hope Mr Ramdin has learnt his lesson from this incident and that we will not see such behaviour by him or any player in the future when celebrating an achievement within a game of international cricket."
The incident, deemed a Level 1 offence contrary to clause 2.1.8 (a) which relates to "conduct contrary to the spirit of the game", took place during Sunday's West Indies innings in the match, which ended a draw.
Ramdin was recalled to the West Indies Test side after a two-year absence for the tour of England.
The 27-year-old, who had made only one century in his previous 44 Tests, played in the opening two matches as the tourists were beaten at Lord's and Trent Bridge.
After the Windies collapsed on the fourth afternoon of the second Test in Nottingham, Ramdin came in for criticism from Richards, who said: "Ramdin just looks out of sorts.
"When he first came into the game I felt he was a huge prospect. For some reason he has deteriorated in such a big way. Just the way he is walking back, he looks like a totally lost guy."
But on day four of he final Test at Edgbaston, Ramdin responded with a hundred and shared a 10th-wicket stand of 143 with Tino Best, whose 95 is the highest score by a Test number 11.
In celebrating reaching three figures, Ramdin pulled the handwritten note from his pocket and directed it to the commentary box, where the former West Indies captain is working for BBC Test Match Special.
"I think I remember saying he'd lost his confidence, but I'm on the other side of the fence now and I'm here to do a job - there's no sentiment in it," said Richards, who scored 8,540 runs at an average of just over 50 in 121 Tests between 1974 and 1991.
Ramdin said he meant no offence to Richards and had only kept the note in his pocket for personal motivation: "Sir Viv had said something in the press, and I think I got a bit emotional - and it came out the way it did.
"Having said that, he's a legend of the Caribbean - and I still look up to him.
"His statement was a bit hurtful to me - I worked hard and I proved the critics [wrong].
"Not getting runs, I had it [the note] in my pocket - reminding myself I need to get runs."
Listen to a review of the day's play on the Test Match Special podcast with Jonathan Agnew and Geoff Boycott