Yorkshire 'well-placed' for promotion - Martyn Moxon
Last updated on .From the section Cricket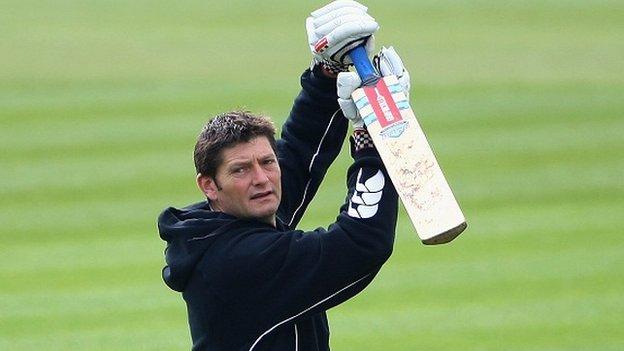 Director of cricket Martyn Moxon believes Yorkshire are well-placed to challenge for promotion at the half-way point of the championship season.
After eight games the county lies third in Division Two, 32 points behind leaders Derbyshire, but with a game in hand, and level with Kent.
"We're firmly in the mix and overall I have to say I'm pleased," said Moxon.
"What we need now is better weather because it's been difficult to get into a proper rhythm."
Moxon said he was particularly happy with the impact made by the new coaching team lead by former Australia fast bowler Jason Gillespie.
"I'm pleased with the way the new coaching staff have settled in and the effect they have had on the squad," Moxon told the Yorkshire Post.
"The only game I can remember us being behind the eight-ball, as it were, was the first game, against Kent at Headingley, when they got a big score; other than that we've been pretty good."
With almost 40% of Yorkshire's available playing time lost to the weather, however, Moxon said the players were desperate for good conditions in the second part of the season to enable them to show they deserved to return to the first division.
"I know it's the same for most counties which is why the table is so tight. But we can only hope the weather improves and that the table comes down to who plays the best cricket rather than who's the luckiest with the weather."