England can dominate Tests for years - Sir Viv Richards

By Sam Sheringham
BBC Sport at Edgbaston
Last updated on .From the section Cricket48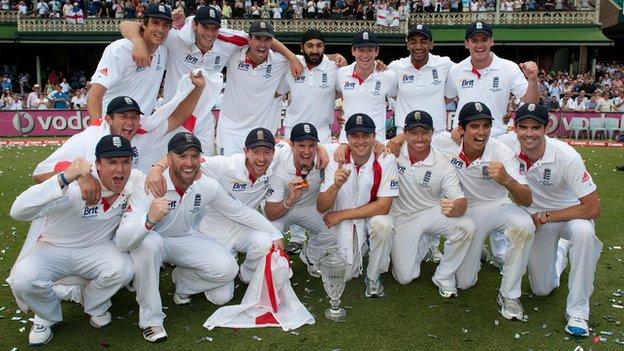 West Indies legend Sir Viv Richards says Andrew Strauss's England have all the ingredients to dominate Test cricket for years to come.
Richards says England have the quality and strength in depth to establish themselves alongside the great West Indies and Australia sides of the recent past.
"England are well led by Andrew Strauss and this is a team that has the potential to create a legacy," Richards, who captained the West Indies from 1985-91 and scored 8,540 Test runs, told BBC Sport.
"They have done their homework and found a solid wicket-taking bowling unit which is of vital importance at this level.
"You have guys waiting in the wings who are just waiting for an opportunity and their competitive edge is as good as any.
"Whatever happened in the past you have proven through hard work and investment that you can become very successful."
Richards starred in the West Indies side that did not lose a single Test series between 1980 and 1995 and twice 'blackwashed' England 5-0.
As Caribbean fortunes began to wane, Australia became the dominant force, losing only two series out of 32 between 1999 and 2008 and twice setting a record of 16 consecutive Test wins.
England rose to the top of the rankings in August 2011 after six successive series victories before coming unstuck with a 3-0 defeat by Pakistan in the United Arab Emirates earlier this year.
Richards, a Test Match Special pundit during England's 2-0 victory over the Windies this month, believes learning how to avoid defeat in alien conditions is the final frontier for Strauss's men.
"It is up to the individuals, but in order to become legendary and great you must be able to win in all conditions," he said.
"It is not just getting it done at home, it is going to places like India and Pakistan and getting a result.
"You don't necessarily have to win, drawing a series can be a good result. It's like football where away from home, a point is just as vital.
"Not losing, scrapping, this is what great teams do and England have a unit assembled to accomplish that."
England's number one status will be on the line in their next Test series, when second-ranked South Africa visit for three Tests in July and August, and Richards sees the contest as the ultimate test of their credentials.
"England are at home so they are going to be favourites, but I'm not going to predict this one," he said.
"The South Africa attack is one of the best you can face in world cricket. They have some guys with serious wheels, like Vernon Philander, Dale Steyn and Morne Morkel and the leg-spinner Imran Tahir can offer variety too.
"So you are going to have a much more difficult series. This series will determine where England should go and where they can end up."