Jonathan Agnew column: England not at their best

By Jonathan Agnew
BBC Cricket correspondent at Edgbaston
Last updated on .From the section Cricket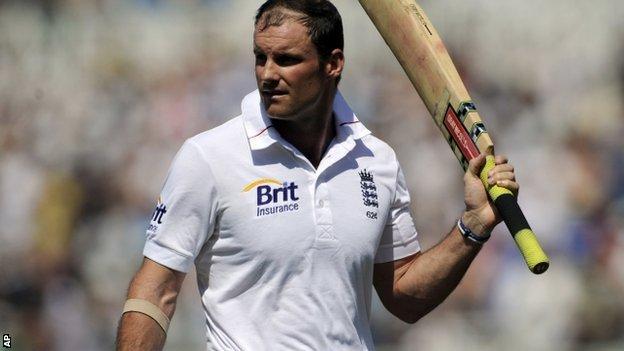 I'd probably give England about seven out of 10 for this series against West Indies, as they could have won both the first two Tests more ruthlessly.
You don't get offerings like that against stronger teams, and you've got to take them.
The weather has not been great here, so it's difficult to take much out of this game. I didn't like the idea of resting players, but I'd like to think they would never rest two bowlers in the same attack again.
England had an experienced attack, but we had two bowlers almost in a trial situation. Graham Onions bowled OK, but I don't think Steven Finn bowled at his best and there seemed a downgraded feel to the whole match.
I just hope we don't look back at this game in a year's time and say "that was the start of where things didn't go quite so well".
But the most important thing England can take from this series is Andrew Strauss getting runs. That was the big talking point - is he still good enough to bat at this level? He'd only scored one century in his previous 30 Tests, which for an opening batsman is simply not good enough.
People didn't write about his position just to have something to write about - Andrew himself knew he needed runs, hence his relief at Lord's when he got that first ton.
England's batting had been suspect during the winter, but it's difficult to make changes when the captain's performing as badly as anybody. Twenty years ago, he'd have been dropped long ago, even if he was captain, as it was the way things were done then.
If he'd not scored runs in this series, we would have been talking very strongly about his future. If you look at the schedule, we would have got to this point and he'd have only had Twenty20 matches for Middlesex between now and the South Africa series. Where would he have gone then?
When you have a settled side which doesn't change very much, one person's failings can become highlighted, and it would have been a distraction going into South Africa, but that's been put away now.
Elsewhere in the side, Stuart Broad bowled well at Lord's, Kevin Pietersen got runs, and I liked the way Ian Bell batted against Sunil Narine here, as "mystery spinners" had been a problem for him. I know it didn't turn very much, but hopefully Bell will have buried a few demons.
Freshening up a team is a good thing - I don't mean you should drop prople all the time, it should be done on merit - but it's good to have the youthful enthusiasm and ambition of a new player coming in to play for England, and I think the number six spot is still up for grabs.
Jonny Bairstow will be cross that he didn't really take his opportunity in this series. He'd have liked two innings here, but it wasn't a good shot he played when he got out on Sunday. He was bowled off his pad but his footwork wasn't great and he was shovelling it a bit square.
I think he'll be facing a threat for the South Africa series, presumably from Ravi Bopara, but no-one has a divine right to play. You have to pick on merit, if someone else is in better form then he plays.
I still think Bairstow's got something, and if he is dropped, I wouldn't want him not to be seen again. He's very exciting, he's an excellent fielder and I still remember that great one-day innings at Cardiff last year when he burst on the scene and everyone thought "wow". He'll have to go off and score as many runs as he can to make sure he's not out of the picture.
England have three different bowlers pushing for that third seamer's spot against South Africa and if they're going to have this rotation policy then I hope they pick horses for courses as there's nothing wrong with that.
If the pitch is hard and has some bounce, then you pick Finn. If it's a cloudy, overcast day and the ball's going to swing, you pick Tim Bresnan, who I still suspect will be favourite against South Africa because of his batting.
And if it's a pitch where the ball is nipping about then you've got Onions, who bowls a slightly fuller length, which is good as batsmen are reluctant to get forward so he's an lbw man.
I'm not grumpy about rotation because we haven't got depth, but I just feel for the credibility of the selection of the national side you pick your best team. That's what people paying their money at the gate expect.
If you're not picking your best team, there's something wrong with the system, and we all know what's wrong is there's too much cricket being played. I don't blame Andy Flower, but I feel uncomfortable as a sportsman myself that there's an environment where you're not picking your best team.
I still hope that maybe there's a chance the Kevin Pietersen saga can be resolved. Kevin's quite an impetuous man, and I hope he doesn't regret bailing out as there are a lot of us up here in the commentary boxes who'll remind him that it's very special to play for England.
You should fight tooth and nail until someone comes and takes your place away.
As for the West Indies, Chris Gayle and the other Indian Premier League players come back in for the one-dayers now, and the onus is on Gayle to fit into this team and play his part.
The side that Gayle led here in 2009 was a terrible team and a terrible exhibition of West Indies cricket - and if Gayle's just going to mooch about, have a slog and look uninterested, I don't think he'll last long.
West Indies have moved on, coach Ottis Gibson and captain Darren Sammy are doing a good job and that may mean jettisoning old wood sometimes. If that old wood doesn't reshape itself, it has to go - and that's down to Gayle. He'll have seen the likes of Marlon Samuels take some responsbility - I hope the IPL players come back and take it seriously.
Listen to a review of the day's play on the Test Match Special podcast with Jonathan Agnew and Geoff Boycott