Warwickshire coach wants Bears 'fun' in FLt20
Last updated on .From the section Cricket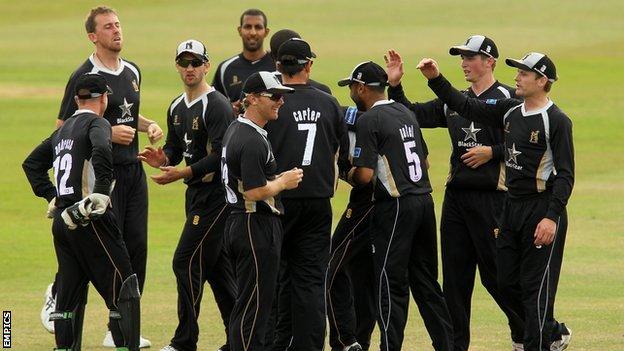 Warwickshire coach Ashley Giles is targeting this year's FLt20 campaign as a "fun" distraction from the real aim of winning the County Championship.
The Bears are well placed in the title race in second place, a point behind Nottinghamshire with a game in hand.
And they stand top of their group in the CB40 after winning four of their first five matches.
But Giles insists: "T20 should mainly be about having fun, playing with flamboyance and winning some games."
After reaching the final in the first year of Twenty20 cricket in 2003, the Bears have been almost perennial quarter-finalists since.
But last season proved a big disappointment as they finished second bottom of the North Group, winning just four of their 16 matches.
And Giles admits: "We really screwed it up last year.
"We started really well last year with two wins and were off to a flier," he told BBC WM. "But then we just got it wrong.
"We were a bit soft in a couple of games and, once your confidence goes, you hesitate. And, if you hesitate in 20-over cricket, you're gone."
This time they are up against a trimmed schedule which means six matches fewer.
Giles added: "16 games was too much. T20 is a valuable commodity, but our crowds proved that five home games was enough."
Both money-spinning Bears-Pears derbies against Worcestershire have unsurprisingly survived the cut in fixtures made by the England & Wales Cricket Board, the first of them at Edgbaston this Friday night (15 June, 17:40 BST), weather permitting.
But Giles' men will also be trying to dodge the rain on Wednesday night (13 June, 17:10 BST) when they start their campaign at Taunton against Somerset, beaten finalists for the past three years.
"We'd love to get to finals day in the T20. I've never been," points out Giles. "But there's a little matter of 10 games and the quarter-finals before that.
"This season has gone well so far and we're pretty happy. Now we just want to have a bit of fun, enjoy T20, then refocus on the Championship."
Following a free tickets marketing initiative, Warwickshire are expecting a near-capacity 25,000 crowd at the redeveloped Edgbaston.