Alec Stewart column: Ian Bell must play his natural game

By Alec Stewart
Former England captain and BBC Radio 5 live summariser
Last updated on .From the section Cricket40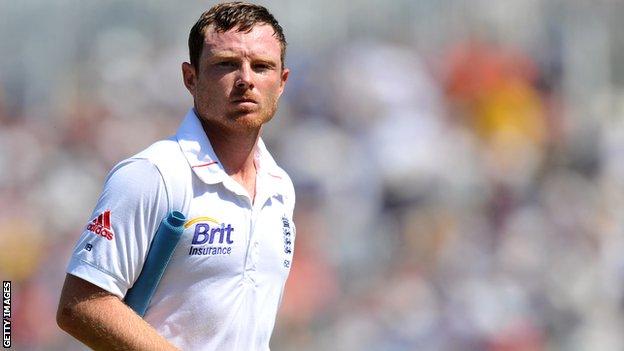 I'd like to think it was a pretty straightforward decision for the selectors to choose Ian Bell to replace Kevin Pietersen at the top of the order in the one-day side, because he is technically England's best player.
I'm possibly Bell's biggest fan from the first time I saw him play as an 18-year-old for Warwickshire and have followed him closely ever since, watching him mature into a world-class batsman.
He has all the attributes to be a top-class one-day opener, but I want to see him bat like Ian Bell and not try to be someone he is not.
In the past I think he may have suffered from being moved up and down the order and therefore being unclear on exactly how he should play in the different situations.
Now he has the role of an opener he needs to bat for as long as possible and, with his talent, be posting match-winning scores in excess of 100.
I don't want to see Bell running down the pitch and trying to mow it over midwicket in the first over of the innings, but instead using his natural stroke-play, timing and placement. That will allow him to score off almost every ball and for me that is the most important thing in one-day cricket.
Bell should watch a video of Marcus Trescothick, who was England's best one-day batsman during my career. He used to get on top of the bowlers by playing authentic and controlled cricket shots.
I've never been a big fan of so-called pinch-hitters at the top of the order. Give me someone who can score big runs consistently over someone who slogs a quick 30 every now and again. With two new white balls used in 50-over cricket now, you need people who can deal with the moving ball.
If you lose too many early wickets to reckless batting, you are then exposing your middle order to the two new balls, which obviously makes their jobs that much harder.
Following Pietersen's decision to retire from international limited-overs cricket, the rest of the England one-day squad pretty much picked itself after their impressive 4-0 victory over Pakistan in the United Arab Emirates earlier this year.
I would expect Bell, Alastair Cook, Jonathan Trott, Eoin Morgan, Ravi Bopara and Craig Kieswetter to make up the top six, while the bowling unit will not be decided until the pitch has been seen at the Rose Bowl.
Due to the recent weather conditions, I would doubt whether England would go in with both spinners - Graeme Swann and Samit Patel - which they did in the UAE against Pakistan.
Whatever team England choose, they are in for a real contest against the West Indies. The tourists improved as the Test series went on, but they are much more of a force in limited-overs cricket.
The return of Chris Gayle, Kieron Pollard and Dwayne Bravo gives them plenty of batting power, while off-spinner Sunil Narine enjoyed great success in the Indian Premier League.
If this were a Twenty20 series I might have made West Indies favourites. But in 50-over cricket, with two white balls in English conditions, players like Gayle will find the going much tougher than they did on flat pitches in India.