Simon Katich open to Hampshire stay
Last updated on .From the section Cricket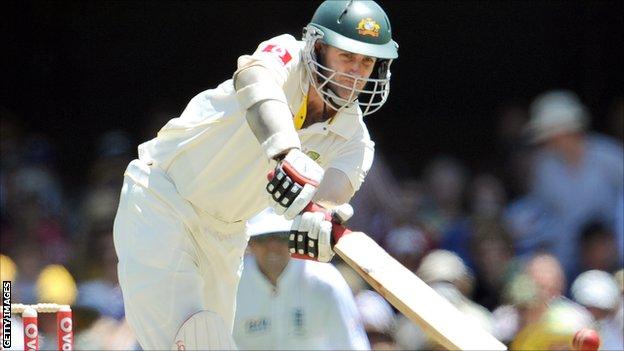 Hampshire batsman Simon Katich says he is open to extending his stay at the club, as long as he feels he is contributing to the team.
And Katich says he will hold talks with the county at the end of the season about his future at the Ageas Bowl.
"As long as I am contributing and the team is going well I'm happy to play on," Katich told BBC Radio Solent.
"But if that is not the case I don't want to drag a team down if I'm not performing.
"So I've said to Hampshire let's play it by ear and see what happens."
Katich, who has played a career total of 247 first-class matches, scoring 19,667 runs and 54 hundreds, says it was the right time to retire from cricket in Australia.
"I'm 37 in August and I did not want to push it too much and out stay my welcome," he added
"I had to make a decision now, given the contracts were coming up in Australia to be done and I felt there was never going to be a great time to do it.
"But I'm really enjoying my cricket here in Hampshire. I'm committed to playing here for the season and then to play for Perth Scorchers in the Champions League in October.
"Then I re-assess where I'm at the end of the season, but that is only because I haven't had a full season over in here five years and at my age I only really take it six months at a time.
"Thankfully Hampshire have been really understanding about the situation."