Abandoned matches leave Kent facing financial headache
Last updated on .From the section Cricket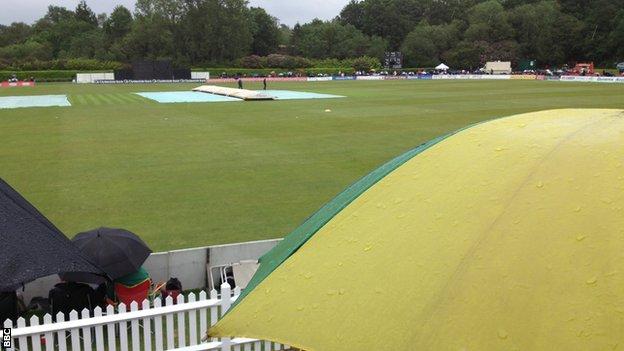 Kent chief executive Jamie Clifford has admitted that no amount of planning could prevent big losses as a result of the recent wet weather.
Clifford told BBC Radio Kent: "I've worked in cricket for 12 years and I've never known a summer like it.
"We have a hole in our budget now and we need to fill it somehow."
He continued: "It had a big impact on our business. We're all sweating a bit that we have a change of fortunes.
"There's a lot of cricket still to come so there's time to claw it back, but it would be nice to get some guaranteed good weather and start filling the grounds up again."
The Spitfires' Twenty20 fixture against Sussex Sharks was originally switched from Tunbridge Wells to Canterbury after flash flooding hit the Nevill Ground.
It followed the loss of two days play against Hampshire in the County Championship and the abandonment of their match against Northants in the CB40 on Sunday.
Some sources say the bad weather for the 100th Tunbridge Wells Cricket Week could cost the club £50,000.
Clifford insisted that all counties could prepare for certain eventualities but the recent downpours were total unpredictable.
"It's one of those things really," he said. "You get the weather you get.
"You plan a little bit so you're not too bullish on gate receipts but the weather we've had has been extreme.
"That's going to have a massive impact on budgets in a greater way than you could ever possibly anticipate.
"It's pretty grim and we need things to change and fast so that we can get some decent crowds in."
On the field, Kent have been beaten just once all season and are unbeaten sitting second in the County Championship.
An inability to convert such dominance into victories was another annoyance for the Kent CEO.
"The real frustration for us is that we're playing good cricket at the moment," he remarked.
"Had we been playing, we'd like to have thought that we could steal a march on our competitors. Let's see what the next week brings and hope the sun shines."