Captain Andrew Gale demands Yorkshire T20 consistency
Last updated on .From the section Cricket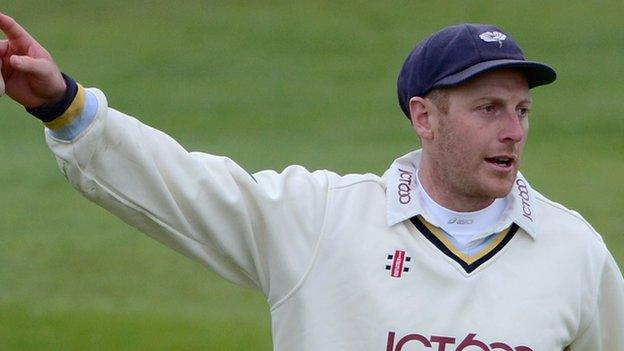 Captain Andrew Gale is hoping extra preparation time will enable Yorkshire to make a flying start to this year's FL t20 competition.
The White Rose county has never reached finals day of the lucrative one-day competition since its debut in 2003.
But Gale told BBC Radio Leeds close to a week's preparation may pay dividends.
"We've got four or five days of good solid hard work going into T20 and we can really get some game plans in place," the 28-year-old said.
Yorkshire begin the competition at home to Durham Dynamos at Headingley on Friday, meaning they have had time to play several practice games in cricket's shortest format.
Last season, by contrast, the County Championship schedule left them time for only one training session to adjust to the change from the four-day game.
Gale also believes winning a pre-season T20 competition in Barbados, involving six county sides, should also improve his side's chances of progressing beyond the group stage this year.
"We tried some different stuff we hadn't done before, and 'Dizzy' [head coach Jason Gillespie] put some game plans in place that we executed with quite a bit of confidence," he said.
"We've also got David Miller, a young international cricketer (for South Africa), who will be striving to make a name for himself in England."
Miller's pairing with Australian fast bowler Mitchell Starc is a prospect that excites Yorkshire director of cricket Martyn Moxon.
"David is a hard-hitting batsman with a strike rate of 120-plus, and we're looking forward to he and 'Mitch' being part of our already talented squad," he said.
"There have been days when we've played really well in the format, but they've been infrequent. We're all keen to get the Finals day."
As well as Miller and Starc, spinners Azeem Rafiq and Adil Rashid are likely to play a key role in Yorkshire's T20 game plans.
"We like to get the spinners on once the first six overs are out of the way and Adil, Azeem and Joe Root can all take the pace off the ball, as can Rich Pyrah who has done a great job in the past in those middle overs," Moxon added.
"We've got some good options in that area and that will be important for us."