Durham hope for T20 change of fortunes
Last updated on .From the section Cricket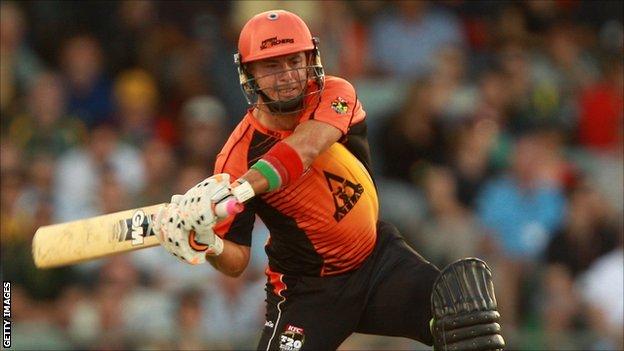 Durham are hoping success in this year's FL t20 will help them recover from their worst start to a County Championship season since 1996.
South African signing Herschelle Gibbs believes the change of format could see a change in fortunes.
He told BBC Newcastle: "T20 is very much about confidence. There can be a lot of emotion involved with it too and perhaps a fresh face will help."
The Dynamos start their campaign against Yorkshire on Friday.
After losing 15 days to the weather already this season - an estimated 1,440 overs - and having failed to win a single Championship game, Durham go into the competition with little momentum and with little to lose.
Gibbs, who played 90 Tests for his country, now travels the world earning money in T20 competitions. He recently played in the IPL, following spells in Bangladesh and the Australian 'Big Bash' with Perth Scorchers.
He said: "Over the last six or seven months all I have done is play T20. Having just been to India I can say it is 25 degrees cooler here but I have played on many different surfaces around the world and it is just a matter of adopting as quickly as you can. Because I travel so much I am used to it."
Australia Test seamer Mitchell Johnson was expected to follow Gibbs to Chester-le-Street, but was called into his country's one-day squad to tour the UK this summer.
Durham will also be without all-rounder Paul Collingwood because of injury. The former England international played with Gibbs in Australia over the winter and was key in encouraging him to sign for Durham.
Gibbs added: "It's a shame to lose Paul. He is a fit guy and good to have around the dressing room. It is a blow to the team because of his wealth of experience but unfortunately these things do happen in sport. It means someone else can now step up and make a name for themselves."
Durham have reached finals day only once and were well beaten by Middlesex in their semi-final at The Rose Bowl in 2008, the first time they managed to get out of a group.
They then lost heavily in a quarter-final at Kent two seasons ago, when being bowled out for their lowest score in a T20 of just 93. They went out again at the same stage at The Rose Bowl last season when out for 99.
One-day skipper Dale Benkenstein admits attitudes will have to change.
"We are normally doing well in the Championship about this time of year and when the T20 comes along we start shaking and getting nervous about it.
"But after the start we have had this season we are looking forward to it. It would be nice to get some momentum going in the short stuff and take that into the final part of the Championship season."
Wicket-keeper batsman Phil Mustard knows more about the domestic T20 scene than most others at the club, having played in 81 matches for Durham, more than anyone else.
He has also scored more runs, totalling 1,737. But while it is a format he enjoys, Mustard fears it has come about at the wrong time.
"Despite what has been happening in the Championship I think everyone still remains upbeat," he said.
"Obviously I am the four-day captain but I think it is a pity the T20 has come along now because we were just starting to get momentum going in the four-day stuff.
"I know we have not won yet but we got ourselves in a position where we could have beaten Lancashire and I think we would have been in a good position to beat Warwickshire if it had not rained.
"I just hope the weather improves because the T20 is vital for the club from a money point of view and it would be nice to play in front of some big crowds."