Solanki hopes that Worcestershire can finally crack Twenty20
By Ged Scott
BBC Midlands Sport
Last updated on .From the section Cricket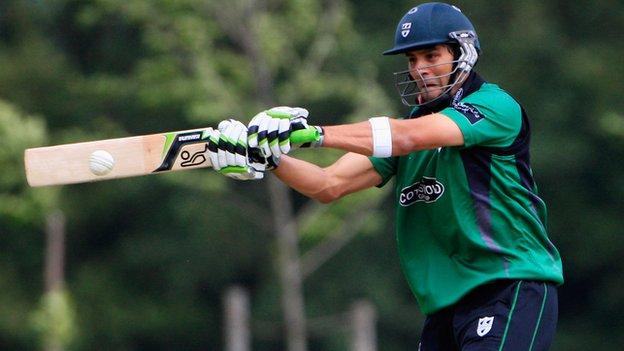 Worcestershire star Vikram Solanki has done most things in a long career - and done them with style too.
But the veteran of 51 England one-day internationals is at a loss to explain why he and his New Road team-mates have never succeeded at Twenty20 cricket.
Solanki, 36, who also played three T20 games for England, has twice been to the quarter-finals, but no further.
"There's no hiding behind the fact that we've not fared as well as we'd have liked in previous campaigns," he said.
"You'd have thought with the players we've had in the past, like Graeme Hick, Steven Davies, Gareth Batty and Kabir Ali, we'd have competed.
"But we haven't quite cracked it."
Now Solanki, in his second season since handing over the captaincy to Daryl Mitchell, is part of a much younger Worcestershire side aiming to make it to Finals Day at Sophia Gardens, Cardiff on 25 August.
And, although staying in the County Championship top flight for the third season running remains top of the agenda at New Road, there is no doubt Worcestershire are taking it very seriously.
"We've spoken a lot about Twenty20," he told BBC Hereford & Worcester.
"And, if we can stick to our plan, if we could progress towards Finals Day, that would be a fantastic achievement."
Worcestershire completed their T20 preparations with a midweek trip to face Minor Counties neighbours Shrewsbury for a well-contested warm-up.
"Shropshire are a good side," said Solanki, after helping his side squeeze home to a 13-run victory at London Road.
"They had two of ours, Jack Shantry and Joe Leach, playing for them and a few of our ex-players too.
"We were 20 runs short, and it took our spinners to drag it back for us, but you like to put yourselves under pressure in these sort of games and we did that. All well and good, as long as you come out with a win at the other end."
Solanki had a good year in 2011 after giving up the captaincy, topping Worcestershire's Championship averages with 1,148 runs at 42.51.
However, at 36, and heading into his 10th Twenty20 campaign, Solanki knows he could now be nearing the twilight of his career but although his current contract is due to expire at the end of this season, his mantra is that he will play on as long as he is feeling as happy, healthy and hungry as he clearly is now.
"The longer you play, the less you take what you do for granted and the more you appreciate just how much you've enjoyed playing this great game," he said.
"We have a great group of guys in our dressing room at Worcester and always have had.
"It's a good place to turn up for work and I'm lucky to have the guys we have and the good people around the club that makes it such a great place.
"I'm in reasonable shape. And, as long as I feel fit enough to play at this level and contribute, then I'm happy."
And, after 17 years of service to the county, India-born, Wolverhampton-educated Solanki would like to carry on entertaining the crowds at New Road.
"I'd like that to be the case," he said. "I've enjoyed my time here and it holds a very dear place in my heart."