Cenkos Centurions take Guernsey Premier league T20 lead
Last updated on .From the section Cricket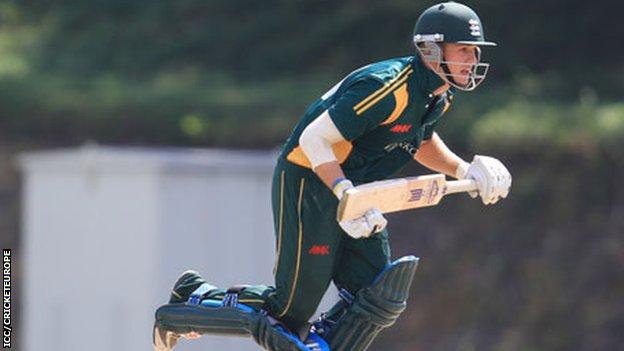 Cenkos Centurions opened up a four-point lead at the top of Guernsey's Twenty20 Premier League as they won their opening two matches at Port Soif.
Island player Tim Ravenscroft hit 71 as they beat JT Giants by five wickets before following it up with a seven-wicket win over BDO.
Ravenscroft then hit 43 while fellow opener Iain Atchison scored 60 as they put on 91 for the first wicket.
Centurions made their target of 143 with three balls to spare.
Former England player James Kirtley had hit 66 for BDO as they made 142-7 in their opening 20 overs.
BDO followed up the defeat with a tie in Saturday's final game with Mourant Ozannes.
David Hooper got 32 and Kirtley scored 28 as BDO made 105-9 off their 20 overs, a score that Mourant Ozannes equalled as Guernsey's former Hampshire player Lee Savident hit 39.
It proved to be Mourant Ozannes' second tie of the weekend after they matched JT Giants' score of 125 in the opening match of the tournament on Friday.
Scott Newman scored 50 for JT as Pierre Moody and Max Ellis each took two wickets.
In reply Paul Franks (45) and Ross Kneller (26) put on 76 for the first wicket as Mourant Ozannes also made 125.