Tom Maynard: A precocious talent and a wonderful young man

By Edward Bevan
BBC Wales Cricket Correspondent
Last updated on .From the section Cricket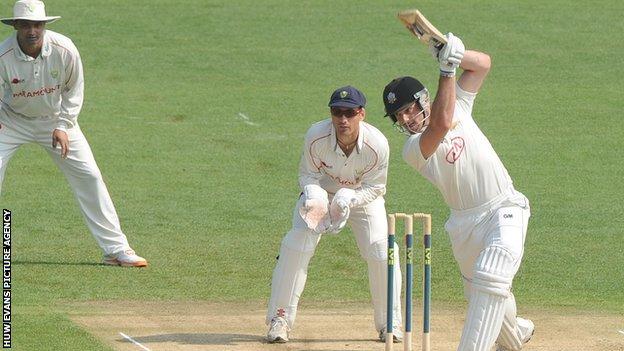 My first recollection of Tom was at the Sophia Gardens Ground - as it was then - following his father, Matthew, everywhere, dragging his little bat behind him.
He could have only been about four or five years old, but one sensed even then that cricket was going to be his life.
When Matthew was batting or fielding for Glamorgan, little Tom would be in the nets hitting balls back to someone he had persuaded to bowl at him.
He would spend all his spare time at Sophia Gardens, but after turning 11-years-old he was absent, as he had already started to represent the various age-groups throughout Wales.
I well remember a journalist colleague from Canterbury telling me how Tom had scored 140 or so against his son's team the previous day and how he had been astounded by his mature performance.
Thereafter he was Millfield School's leading batsman for a couple of years before joining the Glamorgan staff.
On 10 June, 2007 the 18-year-old Tom Maynard gave everyone a glimpse of his burgeoning talent when he scored 71 from 75 balls in a one-day game against Gloucestershire at Colwyn Bay.
It was an innings reminiscent of his father, full of attacking strokes all around the wicket and sublime in their execution.
It was also seven years to the day that Matthew had scored a century in the Benson and Hedges Cup final against the same opposition at Lord's.
Two years later, the Rhos-on-Sea ground was again the venue as Tom destroyed the Northants attack with a blistering century, made from just 57 balls - a ball fewer than his father's best one-day effort.
Tom had exceptional talent and was destined for international honours sooner rather than later. He enjoyed a wonderful first season for Surrey last year, and at 23 had so many productive years ahead of him to entertain us all.
Apart from his prodigious talent, he was just a likeable and easy-going young man. He was courteous, well-mannered and a joy to deal with on a professional basis.
These days, many leading sportsmen are reluctant to give interviews or insist on the need to go through an agent or a third party. This was never the case with Tom.
Two years ago, I asked for an interview at the Swalec Stadium and back came the reply immediately. "You stay there," he said. "I'll come over to the media centre and save you coming to the pavilion."
This was so typical of Tom. And when he scored a century against Glamorgan last season there was only a modest celebration when he realised it was against "his best mates" - his closest friends in the game.
We will remember you, Tom, as someone who adorned the game, who gave pleasure to many with your dynamic and inhibited stroke-play; but also as one of the nicest and most personable guys that has played this wonderful game.