Essex hope weather does not reduce Twenty20 cash flow
Last updated on .From the section Cricket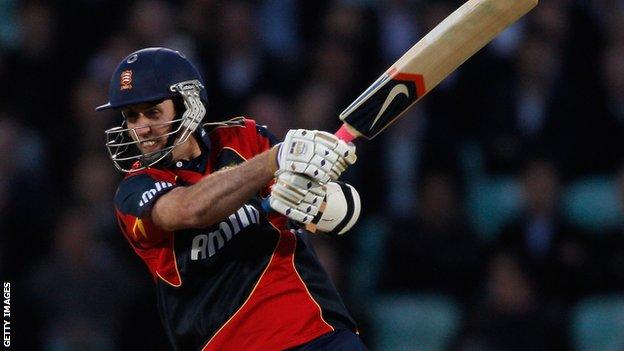 Essex hope the bad weather that has ruined their early-season schedule will not hamper their financially-lucrative Twenty20 campaign.
Six of Essex's eight Championship Division Two matches so far this summer have been rain affected.
"In my 20 years in professional cricket I've never known anything like it," head coach Paul Grayson told BBC Essex.
"We've spent so much time in the dressing room, lads going inside to practice, it's not ideal."
He added: "We've lost something in the region of 17 days cricket this year, that's probably affected our four-day game more than any.
"We've played eight games, we've only lost one but six of those have been washed out by the rain.
"Let's hope the second half of the season picks up and we get some decent cricket in."
Essex play their first home FL t20 fixture on Wednesday night when Kent visit Chelmsford and expect to continue their trend of attracting crowds in excess of 6,000.
But clubs have already suffered a financial hit with a reduction in the number of group games from 16 to 10 and can ill afford to lose further fixtures to the weather.
Commercial manager Danny Macklin said: "It's vital the weather is good, especially around this T20 period. The club depends heavily on selling these matches out.
"It's absolutely crucial to us. Well over half of our income comes from the T20 games.
"Every year it's very tight in terms of trying to make a profit. It's about breaking even and investing what we do make back into the future of cricket.
"It's a challenging year. The weather has not helped but we are doing everything we can to make sure we break even."