Gloucestershire signings unlikely, warns John Bracewell
Last updated on .From the section Cricket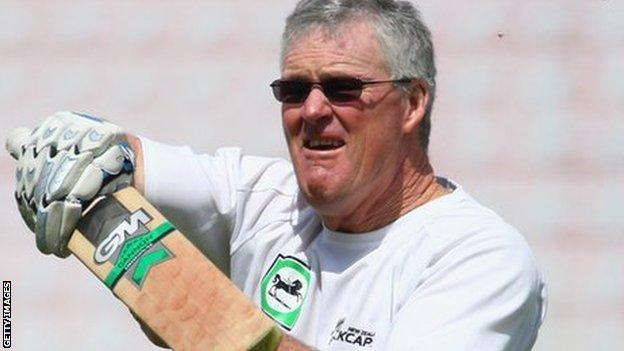 Director of cricket John Bracewell says Gloucestershire are unlikely to bolster their squad until they start hosting one-day internationals again.
The club's budget in recent seasons has been dependant on the approval of renovation plans at Nevil Road.
After several setbacks the development has now been given the go-ahead, meaning they can stage the money-spinning internationals from 2014.
But Bracewell told BBC Gloucestershire: "Our budget isn't going to get better."
He continued: "It won't improve for the next few years until they start playing the one-day internationals.
"But it gives myself and my staff the chance to make good judgements on the young players we currently have and the challenge for us is when we do have money we need to pay them more, rather than recruit from outside."
Gloucestershire have been fighting to rebuild their Bristol home since 2010. They were forced to revise the development after the original plans were rejected and the project was eventually given the go-ahead last month.
The £10m scheme will see the capacity at Nevil Road rise to 17,500, along with new corporate and media facilities.
But most importantly they will be able to cater for high-profile international games, which could earn the club a six-figure profit, and are scheduled to host matches in 2014 and 2016.
The delays have already had a knock-on effect on the squad, as cuts resulted in them losing captain Jon Lewis and long-serving batsman Chris Taylor, while batsman Hamish Marshall signed a shorter contract than anticipated.
But Bracewell says with the development plans in motion, he can now focus on improving the team: "It's certainly given us a light at the end of the tunnel.
"In the past it was an image and now it's actually there. We now have purpose and direction and we can start planning rather than what ifs.
"When the money does come through we can retain our players, rather than losing them as we have done over the past few years."