Jersey face £63,000 ICC funding cut after poor performances
By Brent Pilnick
BBC Sport
Last updated on .From the section Cricket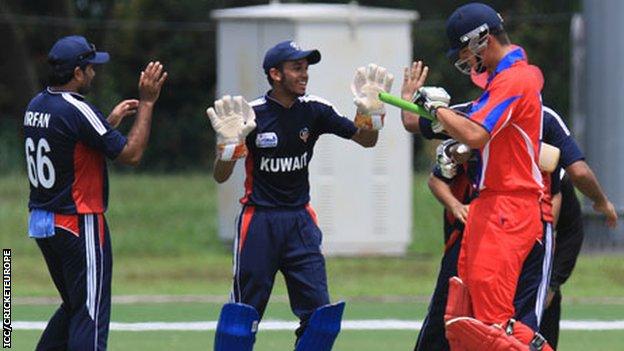 Jersey's poor performances have cost them more than £63,000 of International Cricket Council funding, says Jersey Cricket Board chairman Ward Jenner.
Jersey has dropped from a Category B to a Category C nation, meaning a £31,700 funding loss for the next two years.
"We missed out on staying in Category B by one place," Jenner told BBC Sport.
The island side finished fourth in World Cricket League Division Six last autumn after being relegated from Division Five in 2010.
Countries are re-categorised every two years and are rated according to the standard of facilities, number of players and how well they do on the international stage.
In the past two World Cricket League tournaments, Jersey have won only four matches from the 12 that they have played, with three of those wins against Fiji who have since been relegated to Division Seven.
"It's all weighted and the strongest weighting goes on performance," Jenner said.
"As we've stayed in World Cricket League Division Six and others have been promoted they've improved their world rankings and gone above us.
"Fortunately for us, this year we haven't got an international tournament that we're involved in which is our major cost.
"But we may have that cost next year, so we're looking for potential sponsors to work alongside our existing sponsors.
"We need to cover that shortfall and the best way in the long term is to improve our performance and get back into Category B."