Kent chief Jamie Clifford warns money could hit team
Last updated on .From the section Cricket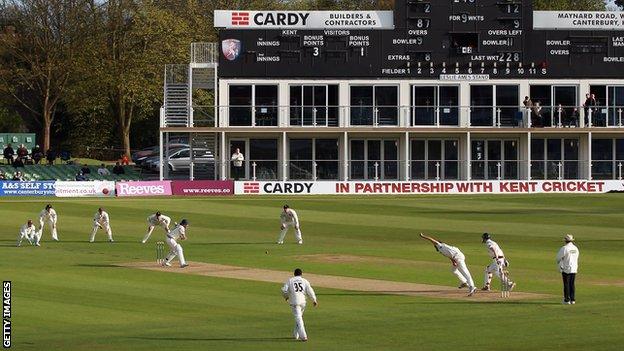 Kent chief executive Jamie Clifford has appealed for fans to support the county, warning their financial woes could affect the team.
"Everybody involved in the game in Kent has a responsibility to close that gap," Clifford told BBC Radio Kent.
"The quickest fix is to get the people in that we didn't during the wet period and that's what we'll be focussing on."
He added: "It's a cliché but the county does need people to follow it, particularly when doing so well."
After losing nearly two days of cricket in the County Championship game against Hampshire at the Nevill Ground earlier this month, Kent's CB40 fixture against Northants was abandoned after heavy showers.
When the ground flooded the next day, Kent switched their FL t20 opener against Sussex to Canterbury but no play was possible there either.
Clifford admitted it would be a shame if the shortfall meant the club was unable to invest as heavily in the team.
"They're playing good cricket, that is attractive to watch," he said.
"If we are to carry on that journey in terms of our playing staff, the model needs to work because you need to keep reinvesting.
"A week of poor weather can knock you off course."
After a successful t20 game at Beckenham last Sunday, which saw almost 4,000 specators watch the Spitfires defeat Surrey, the rewards of high attendances were not lost on Clifford.
"The margins in terms of getting somebody through the gate is our biggest hit," he added. "That allows us to recover more quickly," he said.
"A home (t20) quarter final is massive and would cover the losses for that period in itself.
"We have to treat that as a bonus" he concluded. "We don't plan on that being our strategy."