T20 win gives big boost for Warwickshire, says Laurie Evans
Last updated on .From the section Cricket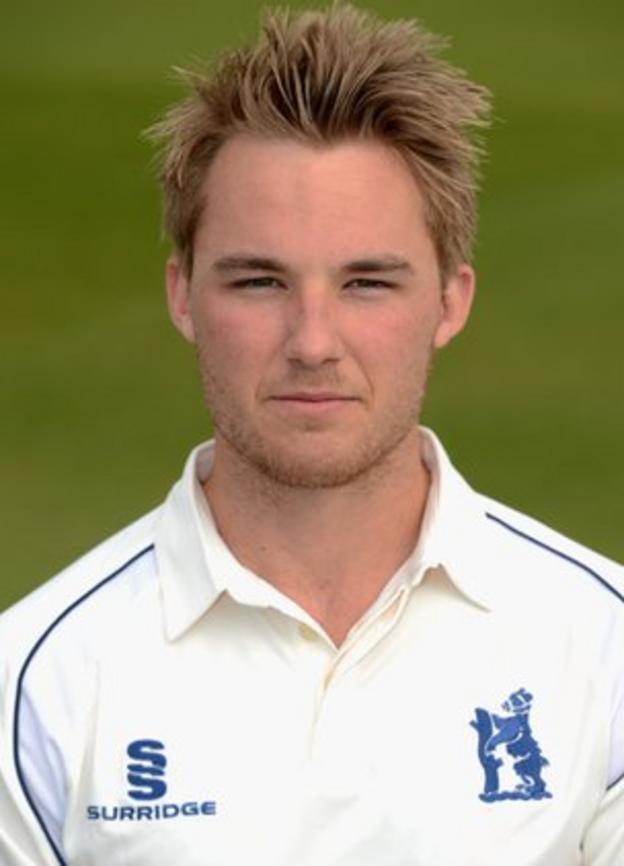 Warwickshire's Laurie Evans insists his role in Tuesday's first victory of this year's FLt20 can provide impetus for the rest of the campaign.
After dropping down to number five, Evans hit 68 off 41 balls to set up his side's six-wicket win over Northants.
"It's a huge lift for us," Evans told BBC WM. "I always thought we could do it. But you need a bit of luck in Twenty20. It can be a matter of inches.
"And I hope I can push forward now that I've taken my opportunity."
The 24-year-old Londoner, who first moved to Edgbaston on loan in 2010, has struggled to find a place in the Bears' starting XI since signing from Surrey two winters ago.
He has played just four County Championship games and had not featured in one-day cricket for the Bears until being selected to open in this year's first two FLt20 fixtures.
At a time when the Bears are going well in the Championship, it came as a blow when they lost their first two Twenty20 games, either side of last Friday night's wash-out against Worcestershire.
The response was to move Evans down the order, allowing Rikki Clarke to open - and the former came up with the sort of response coach Ashley Giles was looking for against Northants.
"He's not had a great deal of opportunity," Giles told BBC Radio WM.
"We've always had him marked down as a County Championship player. But he's starting to look a good one-day player.
"I have to admit he came and talked to me a month or so ago and asked what he had to do to get in the team.
"But he's taken his chance now. He's done what he needed to. He's got runs when it mattered. And to come in and play like that, I'm really chuffed for him."
The mood has certainly now changed, both for the Bears and Evans, who added: "I've had to be patient for the last few years - and I've played a lot of second team cricket. That's difficult mentally more than anything.
"But it's about pushing youself when you get the opportunity, about being ready, about looking and thinking the part.
"Teams like Surrey look for the big fix. But I back Ashley Giles, who says you don't have to go out and pay big money for players if you're prepared to back your own dressing room.
"I didn't mind dropping down. Rikki Clarke's an excellent striker and the plan was to give him a bit of time at the top of the order.
"I'm happy to be batting anywhere and it's just about doing it when you have the opportunity."