Herefordshire host Shropshire in Minor Counties Championship
Last updated on .From the section Cricket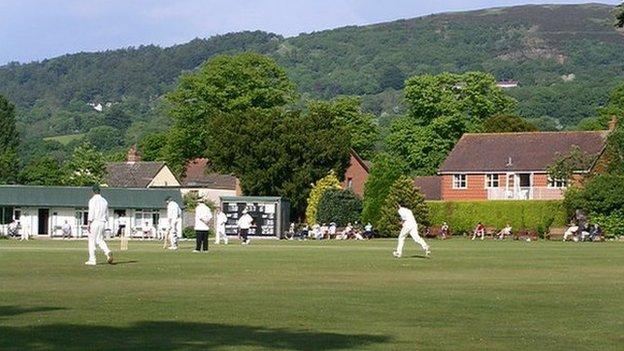 Herefordshire and Shropshire face their annual meeting on Sunday in this summer's second round of Minor Counties Championship fixtures at Colwall.
The hosts make three changes to the team from the badly rain-affected meeting with Cornwall at Eastnor.
Ben Stebbings and Charlie Walker return from University duties, while Brad Wadlan is also available.
Shropshire have Hamsphire batsman Bilal Shafayat available as they look for a second sucessive win.
The visitors opened their Championship campaign with victory over Cheshire at Bridgnorth a fortnight ago, following that up with another encouraging performanc in a narrow Twenty20 friendly defeat against neighbours Worcestershire at Shrewsbury.
Mike Hingley, DannyJo Cox and Steve Bevan are the three to drop out for the hosts as Shropshire visit the most picturesque of Herefordshire's various grounds.
The match runs from Sunday 24-26 June (hours of play 11:00-18:30 BST each day).
SUNDAY'S TEAMS
Herefordshire: C Boroughs (Brockhampton) capt, D Exall (Brockhampton), B Stebbings (Brockhampton), S Adshead (Astwood Bank) wk, B Wadlan (Bridgend), C Walker (Bristol), A Kimberlin (Kidderminster), N Powell (Barnt Green), G Leighton (Bromyard), C Stewart (Brockhampton), C Griffiths (Brockhampton). 12th man: T Austwick (Brockhampton).
Shropshire: E Foster (Shrewsbury) capt, R Oliver (Reigate Priory), B Shafayat (Hampshire), J Ralph (Bridgnorth), R Foster (Shrewsbury), J Whitney (Bridgnorth), A Parker (Shifnal) wk, A Blofield (Shrewsbury), C Whelan (Liverpool), M Barnard (Shrewsbury), D Bowen (Shrewsbury). 12th man: J Edwards (Shifnal).