England v West Indies: Steven Finn backs team rotation
Last updated on .From the section Cricket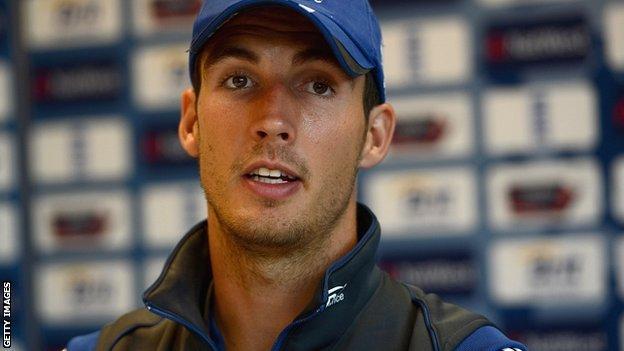 England's Steven Finn believes squad rotation should be seen as developing the next set of stars, not depriving fans of a chance to see their heroes.
The decision to rest Stuart Broad, Graeme Swann and Tim Bresnan from Friday's one-day game with the West Indies has attracted criticism.
"It's important that any logical opportunity for a rest for the senior players should be taken," he said.
"The more exposure we get at an early age the better we are going to be."
With England already 2-0 ahead in the three-match series, head coach Andy Flower has taken the opportunity to freshen up his bowling attack with pace bowlers Chris Woakes and Stuart Meaker and spinner James Tredwell added to the squad for Headingley.
The decision began a debate on Twitter, with BBC cricket correspondent Jonathan Agnew questioning whether the changes devalues England caps and damages ticket sales.
All-rounder Broad responded by asking if Agnew would "prefer players' careers to finish early through injury by playing every game put in the schedule by people in suits?"
Many fans were critical, complaining that they had paid for tickets for Friday's game but would not see the main stars.
However, Finn insists rotation is the best way to ensure that England have lasting success.
"We've got young players coming through who need to gain international experience at international level, me one of those included," he added.
"It is more of an investment in the future with the rest of those guys also able to prolong their careers and play in the more important games."
England's selection for the match were backed by Flower's West Indies counterpart Ottis Gibson.
"The English system has been a well-oiled machine for some time now and it's the envy of the world, let's be honest," he said.
"They are the top team in the world and they have the luxury of being able to rest players. They are winning so they can afford to."