England v Australia: Jason Gillespie on old enemy's new faces
By Stephan Shemilt
BBC Sport
Last updated on .From the section Cricket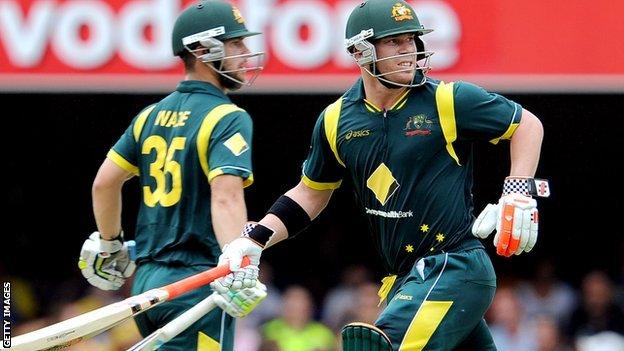 For any cricket fan born after the mid-1980s, these are unprecedented times in Anglo-Australian relations.
With the balance of power between England and their biggest rivals firmly shifted by the one-sided Ashes series of 2010-11, the English can begin to feel how the Australians did for about 20 years.
The Aussies were used to having a settled side full of stars turning out to thrash an England team that was nearly always unrecognisable from the one that was beaten in the previous series.
Baggy Green changes were seamless - as one man moved on, the next in line was eased into his place. England appeared in a constant state of revolution, the muddled nature of selection reaching its nadir when 29 players were used in the 4-0 home defeat of 1989.
However, with England winning three of the last four Ashes series, the tables have been turned.
When Australia look to regain the urn next summer, it is conceivable that England will have 10 Ashes winners in their side. In Australia's recent three-Test series against West Indies, they used six players who have never played in an Ashes Test.
This gives an extra layer of context to the five one-day internationals cricket's oldest enemies are about to play. Beginning with Friday's meeting at Lord's, new acquaintances can be made a year before 10 Ashes Tests are crammed into a seven-month period.
"It will be good for some of the young Australian players to spend time in the UK and get a feel for cricket in this part of the world," former Australia pace bowler Jason Gillespie told BBC Sport.
Opening batsman David Warner, wicketkeeper Matthew Wade and young pace bowlers James Pattinson and Pat Cummins are faces England may have to get used to seeing over the next 18 months.
Of those names, it is Warner who will be the most familiar. A left-hander who played a Twenty20 international before he had made his first-class debut, he has transferred his top-order hitting from the limited-overs game to the Test arena and is now an Australia regular across all three formats.
The 25-year-old carried his bat for a maiden century in his second Test - against New Zealand - then cracked 180 from only 159 balls against India.
"David is a winner," said Gillespie, now coach of Yorkshire. "He's got drive and ambition and wants to be the best possible cricketer he can be. He gives himself the best chance and works incredibly hard on all facets of his game. It's really pleasing to see him have some success.
"I hadn't seen much of him before he played international cricket but he played really well in the limited-overs game, showing that he does have a good technique. If you have a good technique, you have a good chance at succeeding at Test level.
"I think he can have a really successful Test career to complement the success he's had in the one-day and T20 sides."
Like Warner, who got the chance to make his Test debut because of an injury to Shane Watson, 24-year-old Wade grabbed the opportunity presented when Brad Haddin pulled out of the tour of the Caribbean.
Another who had already had international experience in the limited-overs game, Wade notched his maiden century in his third Test against the Windies.
"He's always been able to bat, but he's made a real point of improving his keeping and striving to get better at that," continued Gillespie, who took 259 wickets in 71 Tests.
"His keeping will get better and he's given himself the best chance to make that Australian keeping position his own.
"Wade has taken the opportunity when it has presented itself. For wicketkeepers, it is all about timing. If you are out injured at the wrong time, it can go against you. That's the nature of the beast when you only have one spot to fight for."
In some ways, the successes of Warner and Wade have come as an added bonus to Australia - even in their recent Ashes struggles, the opening batsmen and wicketkeepers have performed creditably.
England have, however, consistently outbowled the Aussies, making the arrivals of Pattinson, 22, and Cummins, 19, all the more welcome.
Pattinson - brother of Darren, who played one Test for England in 2008 - has taken 26 wickets in his first five Tests, while Cummins, still young enough to be included in the Australia squad for the Under-19 World Cup, took seven wickets and hit the winning runs as he was named man of the match on his Test debut against South Africa.
"They bowl fast and they pitch the ball up," said Gillespie. "They get just enough movement through the air and off the track, but what they do well is bowl good lengths at pace. It's a simple game plan, but they have had success with it.
"I think they're going to bowl well in English conditions. They are quite young and haven't played a lot of first-class cricket so I think this tour will be good for them, but their biggest test looking forward to the Ashes is learning to utilise the Duke ball."
The scheduling of a one-day series a year before the Ashes is "interesting", according to Gillespie, who is adamant that the outcome of the ODIs will have no bearing on the contest for the urn.
However, the reconnaissance work for the next battle of cricket's most famous war is about to begin.