Alex Hales 'devastated' by missed England T20 century
Last updated on .From the section Cricket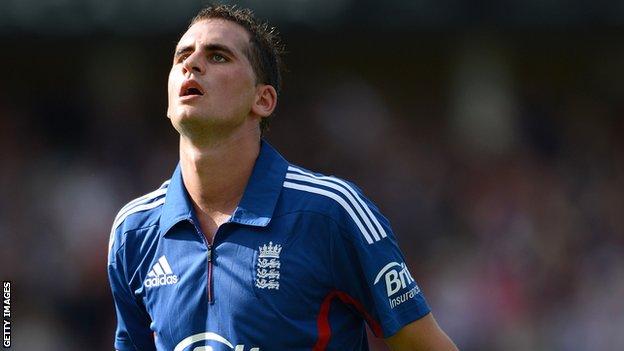 Alex Hales admitted he was massively disappointed after missing out on what would have been the first ever international Twenty20 century by an England batsman.
"I am not going to lie - I'm devastated to miss out on a hundred," he said.
"I am also disappointed not to see the team over the line, though I am happy the guys managed to do so at the end."
Hales added that he still has work to do to become the replacement for Kevin Pietersen, who has retired from both international one-day and Twenty20 cricket.
Asked whether he felt he was on trial as a replacement for Pietersen, Hales said: "Possibly a little bit, but at the end of the day I am very different to Kevin Pietersen.
"I am not resting on my laurels - I still have to put in the performances for Notts, and hope that I get a chance for England.
"I had to come out and do as well here as I have done for Notts. I back myself and hope it pays off. Today it did."
Hales's score is the highest ever for England in international T20 cricket, beating Eoin Morgan's 85 not out against South Africa in Johannesburg in 2009, and he is also the first batsman to be dismissed for 99 in international T20s.
England captain Stuart Broad was just as disappointed as Hales that the 23-year-old did not register England's first ever T20 century.
"I think I was as gutted as he was," said Broad.
"He got us so far, and the ball was there for him to clip to mid-wicket and celebrate. His home supporters were gutted as well, but I thoroughly enjoyed what was a fantastic Twenty20 knock."
West Indies captain Darren Sammy was impressed by the 159-run partnership between Hales and Ravi Bopara (59) but admitted his side had been beaten by a superior England outfit in every format.
The tourists lost both the Test and one-day international series 2-0 before Sunday's defeat.
"Hales and Bopara played really well," said Sammy. "We could have bowled better but that's just the summer we've been having.
"They put on a 150-run partnership and we needed to break it but we didn't.
"We just have to dust ourselves off and look forward to the series with New Zealand.
"Well played to the English team throughout this series, they've outplayed us in every department."