DRS: Michael Vaughan wants firm ICC stance with India
Last updated on .From the section Cricket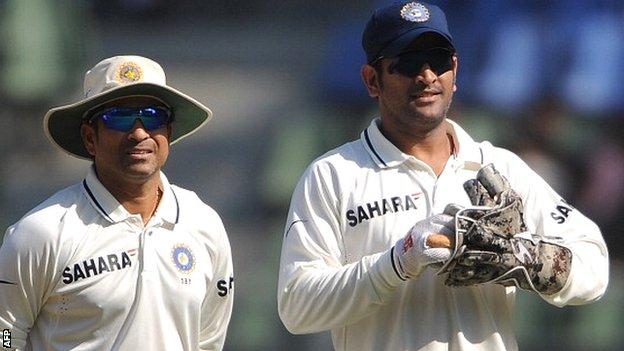 Former England captain Michael Vaughan says the International Cricket Council must take a firm stance with India over mandatory video technology.
"The BCCI continues to believe that the system is not foolproof," they said.
But on BBC Radio 5 live's Tuffers and Vaughan show, Vaughan said: "The ICC has to show authority and say to India this is happening, get used to it."
The DRS was first introduced in a Test match between New Zealand and Pakistan in November 2009 but it remains at the discretion of boards hosting matches, with both teams having to comply.
Sri Lanka opted to use the technology during their home series against England, but not for the current series against Pakistan, prompting criticism from Pakistan coach Dav Whatmore.
India refused to allow it for last summer's series in England, in which they failed to win a Test or one-day international, and are expected to dismiss it again when they host England for four Tests, five ODIs and a Twenty20 international from November-January.
But Vaughan said: "I think it works wonderfully well around all the different formats. England, in particular Andrew Strauss, have got used to it and is very clever with it.
"It's there to get rid of the blunder. Over time it has proven to be very, very good. India need to get with the real world and get on with it because they're ruining it.
"They are almost a little bit egotistical and saying 'you can't tell us what to do' and I think it's about time the ICC said 'you've got to listen to us because it's going to happen'."
"Sachin [Tendulkar] doesn't like it and Sachin is a massive player in the Indian dressing room and with the Indian hierarchy. He is probably telling them it's not good for the game and I guess they're just going what with he thinks.
"I think the ICC has to stamp down and say 'I'm afraid India it's going to be mandatory, the DRS will be in place for every single series that you play in, get on with it.'"