Shahid Afridi set for Hampshire return
Last updated on .From the section Cricket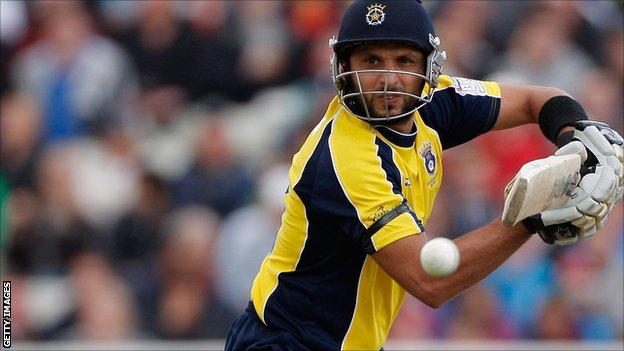 Hampshire all-rounder Shahid Afridi is set to make his return to the county in time for Wednesday's T20 match at Middlesex, according to his agent.
Afridi has missed four T20 games so far as he was unable to apply for a visa in Sri Lanka where he had been playing international cricket for Pakistan.
His agent Umran Khan says it would not be unusual for him to arrive on the day of the game just like other clients.
"It happened with Abdul Razak, who I represent," Khan told BBC Radio Solent.
"He flew in on the morning of a game and played in the evening.
"As long as he arrives safe and well I'm sure he'll be able to do the business."
Meanwhile, Khan also told BBC Radio Solent that Afridi is now a doubt for T20 finals day should Hampshire get through at the end of August.
The 32-year-old could be required by Pakistan to play in a six match T20 international series against Australia which has recently been confirmed.
Afridi was meant to be available for the entirety of Hampshire T20 campaign.
"The dates have not been confirmed yet but it looks as if it could be over finals day," said Khan. "Pakistan is always his top priority as he is an international cricketer."
The Pakistan star enjoyed a successful stay with Hampshire in 2011, taking 17 wickets in 10 matches at an average of 11.17.
His efforts helped his side progress through the group stages unbeaten at home and ultimately to T20 finals day at Edgbaston.
Highlights from Afridi's 2011 campaign include taking his county-best bowling figures of 5-20 on his home debut against Gloucestershire, and an impressive knock of 80 in the semi-final against Somerset.